Nov. 22, 1963 — the day that haunts us still.
That beautiful cloud-free morning in Dallas, when the youthful and handsome president of the United States and his equally appealing wife, Jacqueline, rode in an open limousine with Gov. John Connally and his wife, Nellie, in the motorcade through the heart of the city.
Mrs. Kennedy wore a shocking pink copy of a Chanel suit with a matching pillbox hat and carried a bunch of vermilion roses. (That unforgettable outfit, now carefully enshrined in a vault in the National Archives, remains one of the most powerful symbols of the Kennedy mystique.)
---
SEE ALSO: Jackie Kennedy's bloody pink suit to stay hidden until 2103
---
It was so warm and sunny that the Secret Service had removed the Plexiglas bubble top from the presidential vehicle, so there was nothing to separate the charismatic couple from the cheering crowds. (The president hated using the bubble on any occasion.)
They seemed relaxed, smiling and waving until suddenly three shots rang out from the sixth floor of the Texas School Book Depository on Dealey Plaza.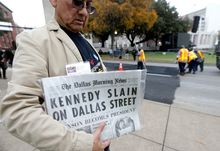 Merriman Smith, the venerable UPI reporter, snatched the only phone in the press car several cars back, screamed the news to his bureau chief and alerted the world.
---
PHOTOS: 50 years later: The unfulfilled promise of John F. Kennedy and his generation-defining death
---
A dress manufacturer, Abraham Zapruder, captured the slaying in the most notorious 26-second film clip in history. The first bullet missed. The second struck the president in the throat. The third blasted through his head. One sickening frame shows the horrific explosion.
Fifty years later, the recriminations, the conspiracy theories, the what-ifs and the second-guessings linger.
Dr. Kenneth Salye, who was a 27-year-old resident at Parkland Hospital, recently declared that Kennedy might have survived if he had not been wearing a back brace. Because of chronic back pain, the president always wore a tightly laced, chest-to-waist corset, which that day prevented him from ducking or moving in order to avoid that final fatal shot.
According to Secret Service agent Clint Hill, Mrs. Kennedy cradled her husband in her arms whispering, "Jack, Jack what have they done to you? I love you."
Mr. Zapruder never used his camera again.
Later, CBS anchor Walter Cronkite looked at the clock on his office wall and mournfully announced that the youngest elected president in U.S. history had died at 1 p.m. Central Standard Time, 2 p.m. Eastern Standard Time, "some 38 minutes ago."
John F. Kennedy was 47.
The world seemed to stand still. Everyone who was alive remembers that horrible Friday and exactly where they were and what they were doing. (It's an invisible, emotional scar equivalent to the horror of Sept. 11, 2001.)
Shattered, we huddled around black-and-white TV sets for the weekend, asking friends to stop by. It was communal grief. We needed to share.