We cannot understand how the Sandy Hook Elementary School victims' families feel. But Adam Lanza's horrifying mass murder in Newton, Conn. almost a year ago remains an unresolved pain in the hearts of many Americans.
We search for something to blame in order to get closure from both getting justice and acting to prevent a similar tragedy. Unfortunately, that answer remains elusive.
On Monday, Connecticut State's Attorney's Stephen J. Sedensky III released the final report of the Dec. 14 events in which Adam Lanza shot and killed his mother, himself and 20 children and six educators in Newtown. Mr. Sedensky closed the investigation without charging anyone or finding a motive for the crimes.
Blame the guns?
Before the children's bodies had been taken out of the school, politicians like New York City Mayor Mike Bloomberg blamed guns, not the murderer, for the events. Within 48 hours, President Obama called for new gun control laws, including "assault-weapon" and "high-capacity magazine" bans to prevent the rare mass shooting.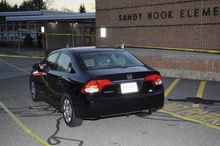 The state's attorney report shows that all the guns and ammunition were legally bought by the shooter's mother, Nancy Lanza.
Lanza used a Bushmaster Model XM15-E2S rifle in 5.56 caliber in the mass killing, then killed himself with a Glock 20 pistol in 10mm. He also carried a Sig Sauer P226 in 9mm, which he did not use.
(The shooter brought a Izhmash Saiga-12, 12 gauge semi-automatic shotgun to the school but left it in his car. A police officer put the shotgun into the trunk of the car for security purposes following the shooting. This has resulted in Internet conspiracy theories that the shotgun, not the rifle, was used in the shooting. These theories are unfounded. All the shell casing found at the murder scene are 5.56 rifle ammunition or from the suicide shot from the Glock.)
Lanza was 20 years old, so he was a year shy of being allowed to possess a handgun under Connecticut law, which he disregarded that day. Mrs. Lanza had a legal pistol permit.
The shooter only stopped when the police arrived. He had plenty of ammunition and was prepared to continue changing magazines and reloading.
The rifle found near Lanza had a magazine only half-empty. Police found two empty 30-round magazines duct-taped together in a tactical configuration at the scene.
Gun-control advocates often cite "high-capacity" magazines as a cause of gun violence, but the sophisticated way Lanza prepared his weapons showed how easy it is to change a magazine of any size and reload, even in an active shooter situation.
Mrs. Lanza was out of town leading up to the crime that her son committed the morning after she returned. He shot her in the head four times with a .22 caliber Savage Mark II rifle while she was in bed.
It is a shame that Mrs. Lanza gave her mentally ill son access to firearms. If the mother had locked her guns and not allowed her son to enjoy shooting — which the report says was a pastime he enjoyed — perhaps that would have prevented the shooting with those guns.
However, Lanza planned this killing over a long period of time. He conducted drive-by runs to the school. He had a spreadsheet of mass murders and studied school shootings. Even if he didn't have access to his mother's guns, one can presume he would have stolen them from another home.