America's top intelligence official acknowledged Tuesday that President Obama and other senior White House officials were well aware of U.S. surveillance activities targeting leaders of friendly foreign nations — a stark contradiction of the administration's insinuation in recent days that the president was unaware of such spying.
Director of National Intelligence James R. Clapper described the targeting of foreign leaders, including American allies, as a "fundamental" aspect of intelligence gathering, and said neither the CIA nor the National Security Agency can tap into a given leader's private communications without White House oversight.
His testimony, made during a series of tacit exchanges Tuesday with members of the House Select Committee on Intelligence, came as all sides in Congress have begun seriously examining legislative proposals that would rein in the legal framework surrounding the NSA's snooping programs.
---
SEE ALSO: U.S. intel rages at Obama spy denials: 'People are furious'
---
Two lawmakers introduced a bill Tuesday that would end the agency's legal ability to collect and store massive amounts of private, albeit basic, telephone metadata, while a separate Senate proposal would allow the data gathering to continue under new oversight requirements.
Despite his broad characterizations about the program and the White House's knowledge of it, Mr. Clapper sought also to defend Mr. Obama during the intelligence hearing, saying that while the president is briefed "quite frequently" on the scope of surveillance operations, it would be "unrealistic" to think his staff regularly goes over specific details, such as explicitly how or when the intelligence is being gleaned.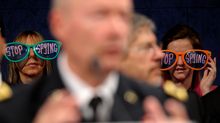 Testifying alongside Army Gen. Keith B. Alexander, director of the NSA, Mr. Clapper painted a picture in which recent revelations about American spying are obvious.
---
SEE ALSO: Russia bugged goodie bags with spy technology at G-20
---
Both men said foreign leaders are disingenuous when expressing outrage over the snooping because America's own allies have conducted similar spying operations against the U.S.
"Some of this reminds me a lot of the classic movie 'Casablanca': 'My God, there's gambling going on here?'" Mr. Clapper quipped at one point.
The remarks also added fresh context to the questions surging with Watergate-era flair through Washington in recent days, over exactly what the president knew about NSA efforts to tap into the private communications of some of America's closest allies, including the cellphones of German Chancellor Angela Merkel.
Mrs. Merkel, along with leaders from Mexico, France, Sweden, Spain and Italy have seethed publicly at international news reports drawn from documents leaked by Edward Snowden — the former NSA contractor now hiding in Russia — that reveal aspects of the American snooping program, including one mission that involved hacking into Mexican President Felipe Calderon's emails in 2010.
The White House this week has dodged questions about one specific report that claimed Mr. Obama learned of the NSA program's scope only a few months ago.
The story, published Monday by The Wall Street Journal, cited unidentified officials as saying Mr. Obama had moved to swiftly end the program upon learning that the U.S. was tapping Mrs. Merkel's phones.
Speaking only the condition of anonymity with reporters, U.S. officials have said that during a personal telephone call with Mrs. Merkel last week, Mr. Obama, who sought to allay the German leader's frustration about the NSA program, denied having known about it.
Hitting a nerve
While Mr. Clapper and Gen. Alexander asserted Tuesday that the surge of international news reports about the NSA program have been inaccurate, neither was willing to disclose much about what the highly classified program entails.