Caroline Biden, the niece of Vice President Joseph R. Biden, arrived at a Manhattan court for the charge of hitting a police officer wearing a black dress, black heels – and a black eye.
The New York Daily News reported neither she nor her attorneys addressed the black eye, ignoring a reporter who asked outside the court: "Where did you get that shiner, kid?"
Ms. Biden is accused of slugging a police officer after he responded to a call about a fight she was having with her roommate in September.
---
PHOTOS: Celebrity plastic surgery gone awry
---
She's been charged with misdemeanor obstruction of government administration, resisting arrest and harassment with physical contact.
Police say she screamed at them: "I know my rights, I shouldn't be handcuffed," and fought her from attacking Officer Latesha Callahan, The New York Daily News reported.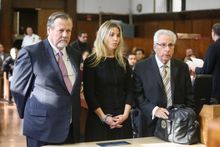 Ms. Biden also told police "don't touch me," and continued the fight at the 1st Precinct jail, where police say they had to physically pry her hands off bars and push her into her cell.
At the time of the incident, Ms. Biden had been sharing a Tribeca apartment and working at an upper East Side art gallery.
But she reportedly failed to pay her share of the rent, and was booted.
Her parents live in Merion Station, Penn., but have not commented to the press about her arrest. The vice president has not commented, either.
Ms. Biden faces up to a year if convicted. Her next hearing was set for Dec. 17.