Several noisy protesters interrupted President Obama's health care reform rally in Boston on Wednesday afternoon, stopping the commander in chief's speech dead in its tracks.
The demonstrators shouted for Mr. Obama to "stop the pipeline" and to confront climate change, referencing the controversial Keystone XL pipeline project which the president must personally approve or deny.
Pausing for a few moments, Mr. Obama then attempted to make light of the situation.
"We're talking about health care today … That is the wrong rally," he said with a smile, telling the crowd he is in Boston to talk health care, not global warming.
"We had the climate change rally back in the summer. This is the health care rally," he added.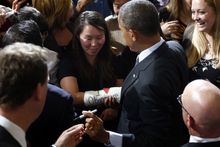 On his way out of Boston, the president again was confronted by protesters.
Several dozen demonstrators stood along Mr. Obama's motorcade route holding signs decrying the Keystone pipeline, according to a pool reporter traveling with the president.
One of the protesters reportedly was dressed as a polar bear.