Maryland is experiencing a run on guns before some of the toughest firearms laws in the nation take effect next month, testing the limits of state police to process the tens of thousands of additional applications being submitted.
State Police say that through Aug. 31 they had received 85,141 gun-purchase applications this year. For all of last year, police received 70,099 applications and in 2011 they received 46,339 applications.
"We're looking at unprecedented numbers," Maryland State PoliceSgt. Marc Black said. "We saw this coming."
---
SPECIAL COVERAGE: Second Amendment and Gun Control
---
Gun dealers say they also have been overwhelmed ahead of the law's Oct. 1 effective date.
"Because of the gun ban, business has been booming," said Al Koch, store manager at Bart's Sports World, a Glen Burnie-based gun shop. "It's been busy like crazy with people making last-minute decisions."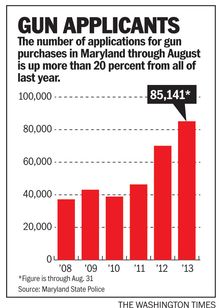 Tammy Sager, an employee at Angus MacGregor's Trading Post in Waldorf, said her gun shop just received an approved application from police that was submitted in May.
---
SEE ALSO: NRA joins lawsuit against NSA snooping
---
"This person passed all the requirements — gun safety training, no criminal background — but that's five months to get a background check," Ms. Sager said. "I don't mind doing a background check, but what's the holdup? I understand they're getting a lot of applications, but why is it taking so long?"
Sgt. Black said officials have processed 46,942 of this year's applications. He said officials have doubled staffing numbers as officers work furiously to process the applications.
In August 2012, 38 employees were assigned to conduct background checks, but this year 73 employees are doing that work. Sgt. Black said 60 temporary staffers are also rotating hours.
"We tried to put new people in there, additional personnel to get ahead of things," he said.
Current law states that a person looking to buy a gun in Maryland must submit a purchase application, which is forwarded to the licensing division of the Maryland State Police. Once there, officers check a series of 16 databases to make sure the person is not prohibited from owning a gun. Once that process is complete, the application is verified, the gun dealer is notified, and the person may pick up the gun.
The new legislation, proposed by Democratic Gov. Martin O'Malley in January after the mass shooting a month earlier at Sandy Hook Elementary School in Newtown, Conn., was passed by the Democrat-controlled General Assembly in April. The National Rifle Association has announced plans for a legal challenge to the gun law once it becomes effective.
The law limits handgun magazines to 10 rounds and adds 45 guns to a list of banned assault weapons. It also requires prospective gun buyers to submit their fingerprints and to obtain a handgun qualification license that includes taking a gun safety and proficiency course.
Sgt. Black said an application process that complies with the laws has been developed by the state police information technology department and is scheduled to be implemented Oct. 1.
The law grandfathers in people who own or purchase their firearms before Oct. 1. But Ms. Sager, whose boss is moving the business to Pennsylvania in three weeks, said the backlog of applications is dragging out sales and causing frustrating delays.