A Facebook image of a team of Syrian rebel fighters called the al-Aqsa Islamic Brigades that shows them masked, armed and marching from a burning U.S. Capitol leads intelligence analysts to ponder: Perhaps the anti-Bashar Assad forces are also anti-American.
Moreover, the image isn't just a tiny icon on the page. It's the banner illustration, plastered across the top of the group's page, and the masked militants are revealed after clicking on the picture.
"As a group that claims affiliations to the generally pro-Western Free Syrian Army, it is difficult to reconcile the fact that is has plastered such a lurid anti-American image as the banner on its own official Facebook page," said Evan Kohlmann, a senior partner with the security firm Flashpoint Intelligence, to NBC.
---
SEE ALSO: Putin to Obama: Don't hand 'trump card' to Syrian rebels before U.N. evidence presented
---
The group is a faction of Sunni rebels within the larger Free Syrian Army unit. Two other pictures on its Facebook book show the black flag of the Iraq al Qaeda terrorist group. At the same time, al-Asqa has yet to be designated a terrorist group by the United States, NBC reported.
The images are especially curious given Secretary of State John Kerry's Thursday assertion before the House Foreign Affairs Committee that "bad guys," like Islamic radicals who hate America and the West, only make up "maybe 15 to 25 percent" of the rebel force.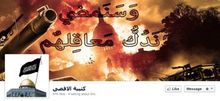 Senior military officials speaking to NBC said the true percentage is "way higher than that," while defense officers said al Qaeda and similar militant and terrorist groups are actually "more than 50 percent" of the Free Syrian Army.