Taylor Woolrich, a 20-year-old Dartmouth College student, who has been stalked for the past four years, has asked for an exception to the usual firearm licensing and carry prohibition at Dartmouth. She has so far been refused.
She's afraid of 67-year-old Richard Bennett, who lives near her family in San Diego. He has persistently harassed her there in person, and via the Internet since she began college in 2012. She was able to have him arrested for approaching her again at home.
Mr. Bennett was charged with felony harassment and violating Miss Woolrich's existing restraining order. He remains in jail in lieu of bail, but would be sentenced to no more than four years' incarceration if found guilty. Mr. Bennett is reported to have wanted "to protect her" and "promised" he would fly east to see her at Dartmouth. In his car were found a noose, a knife, gloves and other items that could be used for kidnapping.
Miss Woolrich is right to be afraid. Mr. Bennett's belief that he would be a protector to someone who has unequivocally rejected his involvement is delusional. His promise to travel nearly 3,000 miles to be with her may not be. The tools in his car indicate he has thought about how to keep her close.
Persistent stalkers do not act reasonably because their motivations are not based in reason. Only their fixed beliefs matter about the special relationship that must exist for them with the objects of their desires. These beliefs may be inexplicable to others, but they know that ordinary reality doesn't apply to them and their destined partner. Sometimes, when they finally discover that the relationship they dreamed of really is unobtainable, they end it for themselves or their target, or both.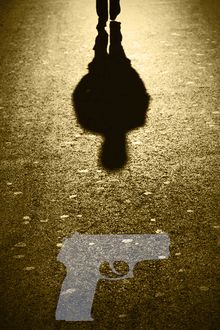 Miss Woolrich is no doubt safer from her Southern California admirer at her New England campus than at home in San Diego. It would take more time, energy and money to get there than most mentally ill people could muster. Ill or not, though, when it is one's life goal, anything is possible.
It's a very good idea to make conviction for certain violent or threatening misdemeanors prohibitive of gun purchase via the National Instant Criminal Background Check System. Crimes do not have to be felonies to indicate a future risk of repeating or escalating previous behaviors. However, expanding the prohibited-persons list won't prevent the "nearly nine in 10 attempted murders of women [which] involved at least one incident of stalking in the year before the attempted murder." Stalkers don't stop, unless their mental status can be helped with treatment, but stalkers don't want treatment.
What would make Miss Woolrich (and other women) safer? It's good that her college is willing to escort her to her car, but what about when she's off campus? A school (or workplace) isn't going to take responsibility for her safety away from it. Her earlier restraining order didn't work. She is unlikely to be able to afford around-the-clock bodyguards. As the saying goes, when seconds count, the police are only minutes away.
No, as long as her stalker maintains the conviction that she and he belong together, she will be at risk. There may come a moment when either he forcibly possesses her or she prevents it. I don't know how she more surely can prevent that than by being prepared to defend herself strongly and definitively against a larger, stronger man who would do anything to have her. That is to say, with a gun, one she carries always. Even on campus.
We live in a marvelous, often happy and rewarding world, one that is occasionally and unpredictably dangerous. Some have the regrettable advantage of knowing of a particular danger to their lives. Everyone has the right to defend themselves. I hope Miss Woolrich will not have to depend on the chance that her delusional stalker will come to his senses at the last moment possible.
Robert B. Young is a psychiatrist in private practice in Pittsford, N.Y., and is a clinical associate professor at the University of Rochester School of Medicine.