Vice President Joseph R. Biden gave an election-year pep talk to House Democrats Friday, saying their political prospects in the fall will look brighter than they do right now.
"Between now and November is three political lifetimes," Mr. Biden said at the Democrats' annual retreat on Maryland's Eastern Shore. "I can't imagine our prospects being viewed by the press and everyone else as being a whole hell of a lot brighter by the time we turn to September than now."
Mr. Biden said "even with all the difficulties you're facing now with the [Affordable Care Act], 55 percent of the American people don't want to see it repealed." He said the public sides with Democrats on issues that affect the middle class.
"They are with us," Mr. Biden said. "Let's go out and make every single effort not just to defend, but to aggressively push our agenda. I'm optimistic about America's prospects, and I'm optimistic about our prospects. So keep your eye on the ball."
The vice president also seemed to acknowledge that some Democratic incumbents don't want him or President Obama campaigning for them this year. He recalled the comment made to him by Senate Judiciary Committee Chairman James Eastland, a conservative Democrat from Mississippi, when he offered to help Mr. Biden run for re-election in Delaware in the 1970s.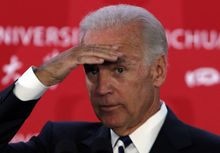 "He said I'll come to Delaware and campaign for you or against you, whichever will help the most," Mr. Biden said.
The vice president told the assembled Democrats, "The president has committed, and you know me too tell, I'm fully committed, to put in every effort we can to be of help to any of you."
Then Mr. Biden laughed as he thanked Rep. Steve Israel of New York, chairman of the House Democrats' campaign arm, "for being so helpful and directing me where he wants me to go." Some Democrats have expressed the wish openly that they don't want Mr. Obama to campaign for them.
Mr. Biden also criticized the GOP as disorganized and unable to lead in Washington.
"There isn't a Republican Party," Mr. Biden said. "I wish there was a Republican Party. I wish there was one person you could sit across the table from and make a deal. Look at the response of the State of the Union — what were there, three or four?"