While the majority of his teammates donned white T-shirts for batting practice Tuesday afternoon, the extra layer of cotton mopping up their sweat, Anthony Rendon looked plenty comfortable strutting around the infield in his standard red warm-ups.
The T-shirts, printed and distributed a day earlier, were part of a campaign to help the Washington Nationals infielder earn a spot in the All-Star Game. Despite the discomfort in the stifling July humidity, Rendon's teammates had no problem taking up his cause, figuring they'd help support someone whom many consider their best through the first half of the season.
Yet Rendon himself did. After making his objections known Sunday, when he said he would not campaign to win the annual "Final Vote" tally, his on-field protest spoke loudest.
---
SEE ALSO: LOVERRO: Suck-up Buck Showalter needs history lesson
---
Why, then, the objection to spending four days in Minneapolis for the annual midsummer classic — a stage many players can only dream of reaching?
"Man, I've got a bed at home waiting for me to sleep in it," Rendon said, only a tinge of sarcasm lingering in his voice.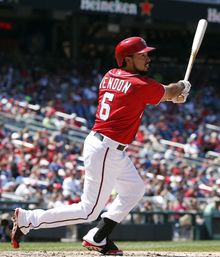 Rendon will get his wish. When voting closed Thursday afternoon, Rendon finished fourth in the National League behind Chicago Cubs first baseman Anthony Rizzo, the eventual winner, as well as Colorado Rockies first baseman Justin Morneau and Atlanta Braves outfielder Justin Upton.
---
SEE ALSO: Most popular MLB player jerseys: Bryce Harper at career low
---
The time off, Rendon believes, will allow him to remain productive throughout the rest of the season.
"It's a long season ahead, and 162 games will really get to you," Rendon said. "The way we're playing, hopefully, we can play into October, and that's just more rest than actually will be needed."
Entering Thursday, Rendon ranked fourth in the National League with 62 runs, seventh with 40 extra-base hits and eighth with 52 RBI. Among third basemen, where he has played 72 of 93 games this season, he's tied for the lead with 22 doubles, is third with 13 home runs, is second with an OPS of .831 and is second in WAR at 3.1.
Only a prolonged May slump, in which he hit .212 yet only once went three consecutive games without a hit, have dampened a highly productive second season for the 24-year-old.
"I feel like he's carried us offensively," said center fielder Denard Span. "We've been in first place for a little bit this first half and he's been the catalyst. He's done everything. He's got on base, he's scored runs, knocked in a ton of runs. Defensively, he's been unbelievable at second base and third base. He's been our MVP so far this first half of this season."
Nationals hitting coach Rick Schu traces Rendon's improvement back to the offseason, when, for the first time since he was drafted sixth overall in 2011, he didn't have to rehabilitate injuries.
Instead, Rendon could focus on getting stronger, which he did when he added 10 pounds of muscle and reduced his body fat to 8 percent. In addition, the mental development that came from playing 98 games last season has helped Rendon figure out how to handle major league pitching.
"You can watch all the film you want, or you can tell him, 'OK, this guy's a sinker, slider guy,' but until you've been in the box and faced him — now he's faced some of the same pitchers over and over, and he's got an idea, and that helps him out as a hitter," Schu said.
Rendon's offensive prowess has come even as he's dealt with a frequent rotation between second and third base. A second baseman for much of the last half of 2013, Rendon moved back to third base, his natural position, when Ryan Zimmerman missed nearly two months with a broken right thumb.