President Obama demanded Monday that Russian President Vladimir Putin force separatists in Ukraine to cooperate with international investigators trying to gain access to the crash site of the downed Malaysian Airlines flight and to recover the bodies of the 298 victims.
"What are they trying to hide?" Mr. Obama asked on the South Lawn of the White House.
The president said given Moscow's "direct influence" over the separatists, "Russia and President Putin in particular has direct responsibility to compel them to cooperate with the investigation,"
---
SEE ALSO: U.S.-Russia relations now at frosty Cold War-levels
---
"That is the least they can do," he said.
Ukraine and other nations say the separatists loyal to Moscow are preventing inspectors from examining the site where the plane crashed last week, reportedly brought down by a missile fired by the forces fighting against Kiev.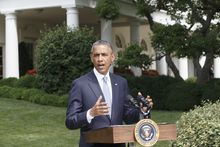 "The Russian backed separatists who control the area continue to block the investigation," Mr. Obama said. "They've repeatedly blocked international investigators for getting full access to the wreckage. As investigators approached, they fired their weapons into the air. These separatists are removing evidence from the crash site. All of which begs the question, what exactly are they trying to hide?"