A psychology class at Ohio State University implied in an online survey that atheists are just naturally more intelligent than Christians — and at least one student said it's an outrage.
The quiz from a Psychology 1100 class at the college poses the question, Campus Reform first reported: "Theo has an IQ of 100 and Aine has an IQ of 125 — which statement can you expect to be true?" Students are then directed to choose from the following answers: Option one is "Aine earns less money than Theo." Option two reads "Theo is more liberal than Aine." Option three: "Theo is an atheist, while Aine is a Christian." Option four: "Theo is a Christian, while Aine is an atheist."
The correct answer, Campus Reform reported, was option four: "Theo is a Christian, while Aine is an atheist."
One student who requested anonymity said the question was part of a class quiz posted online.
"I understand that colleges have a liberal spin on things so it didn't surprise me to see the question, which is a sad thing," the student said in a phone interview with Campus Reform. "But how can you measure which religion has a higher IQ?"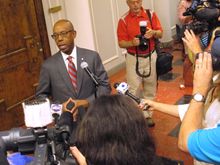 OSU officials didn't comment on the quiz to Campus Reform. But a conservative Christian professor at the University of North Carolina, Dr. Mike Adams, called the quiz offensive.
He told Campus Reform: "So would it be permissible to force blacks to take a class teaching that blacks would have a lower IQ than white people?"
Psychology 1100 is listed as a general education requirement at the college, and it can be taught by an undergraduate teacher's assistance, Campus Reform reported.