As soon as her new book hit store shelves Tuesday, Hillary Rodham Clinton became one of Twitter's biggest punch lines, mocked for her claim she and her husband were penniless when they exited the White House in 2001.
But the furor over the Clintons' supposed financial problems — the subject of a #HillaryIsSoPoor Twitter movement, complete with clever one-liners and photos of the couple's impressive mansion — likely is just the tip of the iceberg, as Mrs. Clinton's re-emergence in the public eye surely will fuel debate over the Benghazi affair and the broader issue of her time as secretary of state.
The former first lady and secretary of state is attempting to head off looming criticism with her book "Hard Choices," telling ABC News that she "would give anything on earth" for the Benghazi terrorist attack, which claimed the lives of four Americans, to have not taken place.
---
SEE ALSO: Hillary Clinton exploded on Secret Service for refusing to carry bags: claim
---
Some analysts say Mrs. Clinton, admittedly eyeing a 2016 White House bid, is employing Politics 101 by releasing a memoir and using it to defend her record and paint her own narrative ahead of another presidential campaign.
Celebrity book tour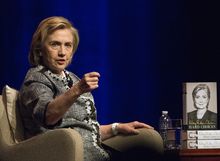 Indeed, the Tuesday launch of her book tour in Manhattan was described by The Associated Press as "a hybrid of celebrity book tour and campaign kickoff, with plenty of hints of a presidential run." About 1,000 people cheered as Mrs. Clinton arrived at the Union Square Barnes & Noble — 20 minutes late — and gave a brief speech before the morning book signing.
---
SEE ALSO: New book, same Hillary: Clinton gets testy with NPR over gay marriage
---
She described her book as "written for anybody who wants to think about, and learn about, what is happening in the world today."
Despite that effort, she lacks control over how she's perceived by some voters, as evidenced by this week's viral Twitter craze.
Mrs. Clinton sparked the movement by telling ABC News she and former President Bill Clinton were "dead broke" and "in debt" when they left Washington — an explanation for why she rakes in about $200,000 for each public speech while at the same time casting herself as a warrior against income inequality and for the nation's middle class.
"We had no money when we got there, and we struggled to, you know, piece together the resources for mortgages, for houses, for Chelsea's education. You know, it was not easy," she said. "I thought making speeches for money was a much better thing than getting connected with any one group or company, as so many people who leave public life do."
Beyond her finances, Mrs. Clinton also will be playing defense on other more serious issues, according to some specialists.
Critics, such as Republican Sen. Marco Rubio of Florida, already have described her four-year tenure at the State Department as a failure.
Mrs. Clinton herself struggled earlier this year to define her most notable accomplishments as the nation's top diplomat, instead describing her time as secretary as a "relay" in which she ran a good race and then stepped aside to "hand off the baton."
Tied to Obama
While Mrs. Clinton's book offers a fierce defense of her time as America's top diplomat, the final chapter has yet to be written. Her reputation, for better or worse, will be tied to President Obama's foreign policy successes and/or failures, said Lara Brown, associate professor and program director with George Washington University's political management program.