United Nations experts said Wednesday that Detroit's decision to shut off water to residents who haven't paid their bills may violate "the human right to water."
"Disconnection of water services because of failure to pay due to lack of means constitutes a violation of the human right to water and other international human rights," said Catarina de Albuquerque, who is identified as an expert in a press release by the U.N. Office of the High Commissioner for Human Rights, The Detroit News UN-says-Detroit-water-cutoffs-may-violate-human-rights" target="_blank">reported.
"Disconnections due to non-payment are only permissible if it can be shown that the resident is able to pay but is not paying," she said. "In other words, when there is genuine inability to pay, human rights simply forbids disconnections."
Detroit Water and Sewerage Department spokeswoman Curtrise Garnersaid nearly half of Detroit Water and Sewerage customers don't pay their bills, which led activists to lobby the U.N. to step in.
In a letter sent to the U.N. Special Rapporteur on the Human Right to Safe Drinking Water and Sanitation, local nonprofit Detroit People's Water Board, Food and Water Watch and Canada-based Blue Planet Project accused the city of violating the "right to water," CBS's Detroit affiliate reported.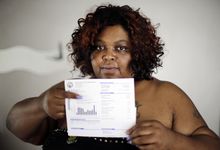 "The U.S. has international obligations in terms of people's right to water, and this is a blatant violation of that right," said Meera Karunananthan, an international campaigner with the Blue Planet Project, Al Jazeera America reported. "We're hoping the U.N. will put pressure on the federal government and the state of Michigan to do something about it."
Ms. Garner said the department's goal is not to shut off people's water, but bills need to be paid.
"We do have programs that do help those that are just totally in need; can't afford it — but we also know that there are also people who can't afford it would can not pay and we know this because, once we shut water off, the next day they are in paying the bill in full. So we do know that that has become a habit as well," she said.
Rep. John Conyers, a Detroit Democrat, denounced the cutoffs in statement released Tuesday night.
"Draconian water cutoffs are not a pathway to financial solvency," he said, The Detroit News reported. "To the contrary, actions that deny residents the ability to bathe, hydrate or prepare meals for themselves and their families create costly long-term public health challenges. These water cutoffs are not only inhumane but economically short-sighted."