The Marine Corps' discipline proceedings in the infamous desecration of Taliban corpses has churned up deep divisions among the top brass.
Two generals, one the commandant, are disputing each other's accounts of a crucial meeting.
Another four-star general, the leader of a regional combatant command, is saying the Corps should apologize for ruining the career of a decorated officer.
The last of eight cases reached a conclusion this month, with Navy Secretary Ray Mabus signing papers to honorably discharge Capt. James Clement. He was the executive officer of a company whose scout-snipers in 2011 urinated on the Taliban fighters they had killed. A video was posted on YouTube, embarrassing the Obama administration, whose top officials called for punishment.
Capt. Clement's defense team, led by civilian attorney John M. Dowd, revealed the first split among the top brass.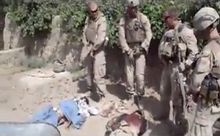 Tipped off by a Marine whistleblower who later found himself ostracized by Corps headquarters, Mr. Dowd and other attorneys procured a sworn statement from Lt. Gen. Thomas Waldhauser. Gen. Waldhauser disclosed that in a one-on-one meeting, Marine Commandant Gen. James F. Amos ordered him to "crush" all desecration defendants and run them out of the Corps. He said he refused.
The order was unusual: Gen. Waldhauser, as the case overseer, or convening authority, was expected to dispose of each case impartially.
Gen. Amos later removed Gen. Waldhauser and appointed another convening authority. Gen. Amos' office did not disclose to defense attorneys why the change was made.
The new convening authority suddenly dropped the criminal charges against Capt. Clement as a trial date approached and referred the case to an administrative board of inquiry.
Defense attorneys believe that if the court-martial had gone forward, the military judge would have granted a request to compel the commandant to testify in public about his actions.
In February, Gen. Amos appeared on National Public Radio and made his first public statements on the Clement case. He denied ever telling Gen. Waldhauser to "crush" the defendants. This put him directly at odds with a three-star Marine general who now works on the Joint Staff, which works for the chairman of the Joint Chiefs of Staff, of which Gen. Amos is a member.
"He is now claiming that Lt. Gen. Waldhauser is lying under oath about a conversation that has gone unrebutted for a year," Mr. Dowd said.
Gen. Amos told NPR: "I have never, ever, said that I wanted them crushed and kicked out. I don't recall at all saying that. What I do recall is there was some motivation on my part — without getting into the exact matters of the meeting — there was some motivation on my part that I questioned some early decisions by the commander. And once I left that meeting, I went, 'OK. That probably wasn't the right thing to do [as it] relates to undue — what we call undue command influence, the influence that a commander, a senior commander can have on the junior commander.'
"And so immediately, to correct that, I moved that case to another three-star general, and then I stayed completely out of it."
'An official apology to him'