U.S. intelligence officials say Russia plans to force Ukraine to adopt a scheme to federalize and turn its southern neighbor into a quasi-province of the Russian Federation.
Additionally, recent assessments of Moscow's motives indicate that a large-scale military intervention to take over Ukraine is a possible plan of action.
The push for a federalized Ukraine began shortly after the March 16 vote in Crimea declaring the peninsula part of Russia. The next day, the Russian Foreign Ministry issued a statement calling for a new constitution in Ukraine to create a "democratic federal state" that would have a politically-neutral military. The Russians want regional entities with broad powers that would boost the power of ethnic Russians and Russian-language speaking Ukrainians.
---
SEE ALSO: House and Senate pass aid to Ukraine, sanctions on Russia
---
Russian President Vladimir Putin on March 18 said he did not want Ukraine divided up, but questioned its current borders, which were established after the 1917 Bolshevik Revolution that incorporated Russian areas in the south and east.
A leaked Russian document developed by Moscow's National Security Council and posted on a Ukrainian website Monday revealed that Russia plans to "integrate" all Russian-speaking regions of Ukraine, including the capital, Kiev.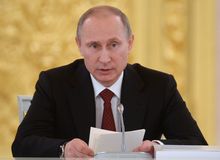 "Only the full entry of the territory of the Russian regions of Ukraine, namely, Crimea, Luhansk Region, Donetsk Region, Zaporizhzhya Region, Dnipropetrovsk Region, Chernihiv Region, Sumy Region, Kharkiv Region, Kyiv Region, Kherson Region, Mykolayiv Region and Odessa Region into the Russian Federation can guarantee peace, security and prosperity for their population as well as provide reliable protection for Russia's interests," the document states.
U.S. officials have not confirmed the authenticity of the report, but also have not dismissed it.
The Russian report accused the U.S. of fomenting the ouster of Russian President Victor Yanukovich as the result of "many years of purposeful activities by the USA and its allies aimed at undermining the historical unity of the Russian people."
"Based on the results of the stabilization operation, favorable conditions must be created for expanding Ukraine's further participation in integration processes within the territory of the [Commonwealth of Independent States]," the document says.
On Capitol Hill, Rep. Howard P. "Buck" McKeon, chairman of the House Armed Services Committee, voiced alarm at recent classified information on the buildup of Russian military forces near Ukraine.
"We are gravely concerned about the aggressive posture of Russian forces along the eastern border of Ukraine, as well as reports that Moscow may be making threatening moves towards allies in the Baltics," Mr. McKeon and seven other members of Congress stated in a letter to President Obama.
The lawmakers said tens of thousands of Russian troops are massing near Ukraine's eastern borders, Russian Spetsnaz special operations commando are fomenting unrest within the country, and Russian naval forces and coastal troops near Latvia, Estonia and Lithuania. The three Baltic States are all members of NATO that the U.S. and Western Europe are treaty-bound to join in the event of war.
"There is deep apprehension that Moscow may invade eastern and southern Ukraine, pressing west to Transdniestria, and also seek land grabs in the Baltics," the congressmen said.
DEFENSE TALKS SCRAPPED
A senior Pentagon official told Congress this week that the Obama administration has halted years of unsuccessful missile defense talks with Russia that had included numerous concessions and an offer to provide classified missile interceptor information to Moscow.