American corporations seem to be doing just about everything with their record $1.53 trillion in cash holdings except using it to invest and hire in the United States, even though the sluggish economy could use the boost.
Three-quarters of that corporate cash pile was earned overseas and is being held outside the country to avoid the top U.S. corporate tax rate of 35 percent, according to a study by Standard & Poor's Corp. It remains the highest rate in the developed world despite tax reform pledges by leaders of both major U.S. political parties.
Those guarding the mountains of overseas cash include some of the best-known names in American business, including General Motors Co., General Electric Co., Apple Inc. and Google Inc.
While many companies are simply reinvesting the cash in their operations in China and other overseas markets that have been growing faster than their U.S. operations, others are using it to acquire foreign companies. A majority appear to be using the cash as collateral to borrow funds in the U.S. to finance generous stock buyback and dividend programs for their shareholders. Only a small fraction of the money is being used to increase hiring, wages and business expansion in the U.S.
Factors contributing to the unprecedented overseas cash balances include tax avoidance, easy credit conditions and booming overseas sales.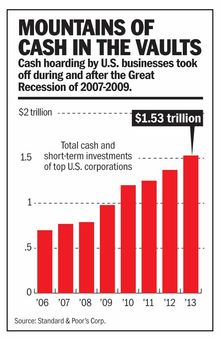 Several deals recently highlighted the extreme measures companies are prepared to take to avoid paying U.S. taxes. Drug giant Pfizer this month announced that it would deploy some of its $39 billion overseas cash hoard in a $200 billion bid to purchase Britain's AstraZeneca PLC, with the goal of eventually relocating its headquarters to London so it no longer has to worry about paying U.S. taxes on its earnings.
Apple, which has the largest overseas cash trove by far at $132 billion, is one of the many corporations that, rather than dip into its cash and take a tax hit, took out debt instead to fund a big stock buyback and dividend program. The move was spurred by Carl C. Icahn and other activist investors frustrated at their inability to get their hands on some of the company's far-flung cash.
Borrowing to buy stock
Among the 80 percent of blue chip companies listed in the Standard & Poor's 500 index that conducted major stock buyback programs last year — often after borrowing the money as Apple did — were Ford Motor Co., Boeing Co., Caterpillar Inc., Cisco Systems Inc., 3M Co., Microsoft Corp., Safeway Inc., and Travelers Cos.
"Shareholders are pushing for the return of this cash," S&P analyst Andrew Chang said.
Apple and other corporations are unwilling to repatriate the money and pay high U.S. taxes on it, so they are borrowing money instead to satisfy investors, Mr. Chang said. He predicted that the trend would accelerate this year.
Corporations get a double tax advantage if they borrow money to pay stockholders rather than dip into their cash. They can avoid giving a third of their earnings to the federal government, and the interest on their debt becomes a tax-deductible business "expense."
Moreover, interest rates on the debt are some of the lowest on record, thanks to the Federal Reserve, which for the past five years has been trying to boost U.S. economic growth by purchasing more than $3 trillion of the most conservative bond investments: U.S. Treasurys and mortgage-backed securities. The Fed's dominance of those traditional markets has driven private investors into corporate debt and riskier markets as they seek higher returns than the rock-bottom yields on Treasury bonds.
Investors' thirst for higher-yielding corporate debt has resulted in a borrowing binge. Corporations are taking out nearly $4 in loans for every $1 in cash they earned in recent years, according to S&P.
Some say the borrowing spree borders on a credit market bubble that is feeding stocks because much of the debt is used to repurchase the companies' own shares.