Maya Angelou could not be pigeonholed.
A girl of many voices, she silenced herself following a domestic rape and lived to make a new name for herself by writing about it in "I Know Why the Caged Bird Sings."
A single mother and a towering artist — literally and figuratively — she broke away from the shackles of racism, sexism and prostitution and then sang and danced about it.
---
SEE ALSO: Exclusive interview: Maya Angelou from earlier this month
---
One of her brothers in the civil rights movement, Martin Luther King Jr., was assassinated on her 40th birthday, but she never wavered.
Always the memoirist, historian and social commentator, a woman of many perspectives, she left liberals shaking their heads when, in 1991, she explained why blacks should support the nomination of Clarence Thomas to the Supreme Court.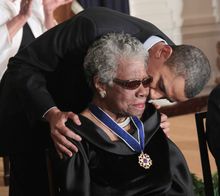 In her wake, hardly an unkind word has been said of this Southern woman who, more than two decades after creating a literary storm with "I Know" — which was colored with the Great Depression and the twin bigotries of racism and sexism — created a commensurate political tempest with her unlikely defense of Mr. Thomas, a fellow Southerner who was poised to become only the second black to be seated on the U.S. Supreme Court.
---
SEE ALSO: AP PHOTOS: Maya Angelou's life and art
---
The tenor of her reasoning left little, if any room, for debate: "Today, the African-American community whirls in eddies of debate, demolition, disagreement, accusation and calumny over the matter of whether an African-American man with a lamentable reputation and impressive credentials should be seated on the highest court in the land. Thomas has demonstrated that he is as conservative as the president and the administration [or] else he would not have been selected. The African-American savants know that, and we know as well that if efforts to scuttle his appointment are successful, another conservative possibly more harmful, and one who has neither our history nor culture in common with us, will be seated firmly on the bench till death rules otherwise."
That was Maya Angelou, an American storyteller who contextualized life to create a powerful way forward.
For me, "I Know Why the Caged Bird Sings" propelled me into a new world after growing up in a conservative household of encyclopedias and literature and history classes that gave short shrift to black American life.
Small wonder it took Ms. Angelou seven autobiographies to get her life stories across — she was telling America's story all along the way.
She also had a lifelong love for music and dance, two other jewels in her artistic crown, and she had a healthy respect for guns. "I like to have guns around," she told an interviewer in 2013. "I don't like to carry them."
Just weeks before her death, in an interview with Armstrong Williams, executive editor of The Washington Times' sister publication American CurrentSee, Ms. Angelou admitted to still being a "work in progress" when it came to Christianity. "I'll still be working at it at 96," she vowed. "If I'm here, I'll be trying to be a better human being, a better writer, a better friend and a better beloved."
God operates on a different calendar.
On Wednesday morning, May 28, Ms. Angelou passed away peacefully at her home in Winston-Salem, North Carolina, at age 86.
Her legacy is her numerous distinct voices.