As House investigators gear up for a new probe of Benghazi, one question they'll likely pursue is what President Obama did or didn't do on the night that the terrorist attack was unfolding 20 months ago.
While much attention has focused on Susan E. Rice's "talking points" that blamed the Benghazi attack on an anti-Islam video, the White House has largely ducked questions about Mr. Obama's actions during the crucial hours when U.S. officials were debating how, or whether, to rescue the Americans under attack at U.S. consulate in Libya.
Four U.S. citizens died, including Ambassador J. Christopher Stevens, the first U.S. ambassador to be killed in the line of duty since 1979.
---
SEE ALSO: Rep. Elijah Cummings to Boehner: Tell GOP not to fundraise off Benghazi
---
The White House said Wednesday it has provided "remarkable cooperation" on seven previous congressional probes into Benghazi. And an Obama aide criticized a Republican fundraising email that mentioned the new probe, saying it's evidence of a partisan witch hunt.
"I think that tells you just about all you need to know when it comes to assessing the political motivations of those who are leading the effort to form this committee," said White House deputy press secretary Joshua Earnest.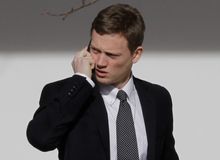 But questions about Mr. Obama's command decisions gained fresh prominence when a former White House national security aide, Tommy Vietor, said in a TV interview last week that Mr. Obama was not in the White House Situation Room around 10 p.m. on the night of the attack, when the president spoke by phone to then-Secretary of State Hillary Rodham Clinton.
---
SEE ALSO: Hillary Clinton: No reason for further Benghazi probe
---
Mr. Vietor, who was in the Situation Room, said the president was in the White House residence at the time of the call.
The White House has not specified what transpired in the Obama-Clinton discussion, which shortly preceded a statement from Mrs. Clinton that cited an anti-Islam video that turned out to have nothing to do with the terrorist attack.
The Situation Room, equipped with secure videoconferencing screens and the technology to monitor world events around the clock, is the White House's nerve center in a national security crisis. The public has seen glimpses of the secret facility only rarely, as when the White House released a photo in 2011 of the president, Mrs. Clinton and other top advisers monitoring in real time the military operation that killed Osama bin Laden in Pakistan.
Mr. Vietor's comments have prompted some Republican senators to call on Mr. Obama to describe where he was and what he did on the night of Sept. 11, 2012.
"The American people still do not have an accounting of your activities during the attack. Mr. President, can you now confirm that Mr. Vietor's account of your absence in the White House Situation Room is accurate?" said a letter from Sens. John McCain of Arizona, Lindsey Graham of South Carolina and Kelly Ayotte of New Hampshire.
A former Secret Service agent said it would have been unusual for the commander-in-chief not to be in the Situation Room during such a high-level crisis.
"If he was in the residence and not in the Situation Room, that's a really big problem," said Dan Bongino, who worked 12 years as an agent, including under Mr. Obama.
"The Situation Room has the communications channels set up the way it is to be a focal point of the ability to conduct an operation. If you're not there, you're out of it. You can have advisers come back and forth [to the residence], but think about what that says about the president. We're talking about walking 150 yards from the residence to the 'Sit Room' to go make a decision. It speaks volumes about a commander-in-chief who was not being a chief or a commander," Mr. Bongino said.
Mr. Bongino, who left the Secret Service in 2011, wrote a book last year about his experience in which he said Mr. Obama would have had "instantaneous access" to information about the Benghazi attack as it was happening.