Border Patrol Chief Raul Ortiz delivered a devastating picture of the border on Wednesday, telling lawmakers that a majority of sectors along the U.S.-Mexico boundary are not secure and saying it was a mistake to stop wall construction.
Chief Ortiz pleaded for Congress to give him more agents and asked for new tools to deliver "consequences" to migrants. He named the kinds of policies that the Trump administration had in place by 2020 but were erased by President Biden.
Chief Ortiz revealed that some 385,000 illegal immigrants are known to have evaded Border Patrol agents so far this fiscal year, and he said up to 20% more have sneaked into the U.S. completely undetected.
---
---
He said some areas of the border are in "a crisis situation." Homeland Security Secretary Alejandro Mayorkas has shied away from that term.
At one point, Chief Ortiz was challenged directly on whether the border is under operational control.
"No, sir," he responded.
---
SEE ALSO: Border chief contradicts Biden DHS, says border is not under control
---
Later, he was asked whether he disagreed with Mr. Biden's decision to cancel roughly 300 miles of additional border wall construction that the Trump administration had planned.
"Yes, sir," he replied.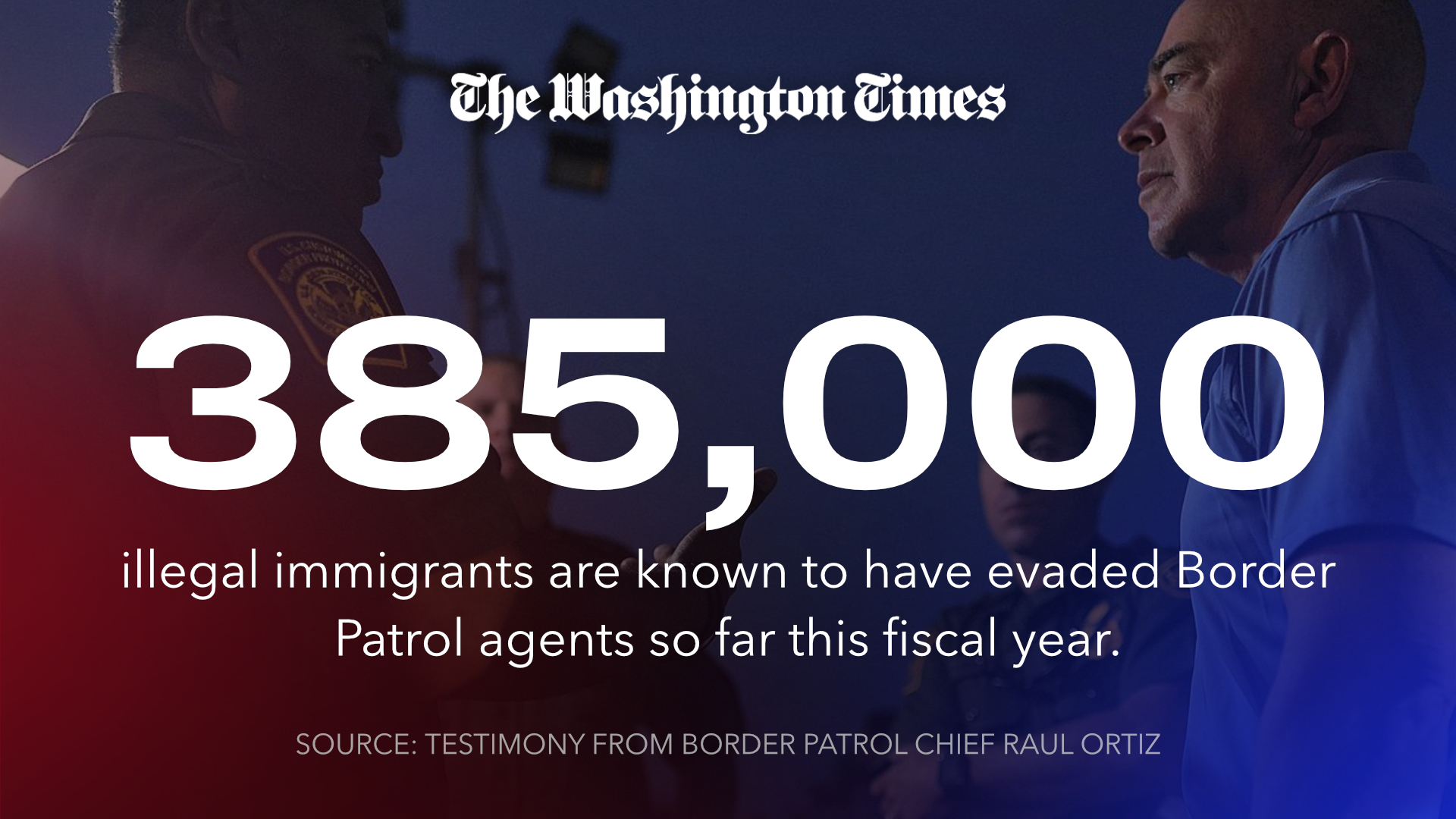 Mr. Mayorkas has repeatedly insisted that the border is under control and secure, but Chief Ortiz signaled that one sector of the northern boundary and five of the nine sectors of the southwestern boundary are not under control.
He was testifying to the House Homeland Security Committee, which was meeting in Pharr, Texas, as part of an effort to hear directly from people on the ground about chaos at the border.
Just after his testimony ended, Customs and Border Protection, the agency that oversees the Border Patrol, released numbers for February showing that illegal immigration across the southwestern border was stable last month at about 155,000 encounters.
---
SEE ALSO: Illegal crossings at southern border remained stable in February
---
That was among the worst months on record compared with any pre-Biden yardstick, but it was significantly better than the 200,000-plus encounters every month from March to December last year.
Those encounters include people whom the Border Patrol caught sneaking into the U.S. between ports of entry and unauthorized migrants who showed up and begged for entry at official border crossings manned by CBP officers.
CBP said a key reason for the improvement is a program that Mr. Biden announced in early January. The program tries to encourage would-be migrants from Cuba, Venezuela, Haiti and Nicaragua to pre-apply for appointments at the border crossings rather than jump the border and surrender to agents.
If they pre-apply, they can be let in under Mr. Mayorkas' power of "parole." Mr. Mayorkas has vowed to deport those who don't pre-apply.
The Border Patrol has recorded a 98% drop in apprehensions of people from those four nations since the program was implemented.
"The continued drop in Border Patrol encounters demonstrates the effectiveness of the measures announced by the administration on January 5, 2023, expanding safe and orderly lawful processes for migration while applying consequences to those who do not avail themselves of those processes," CBP said in announcing the latest numbers.
Chief Ortiz said the Border Patrol is seeing the benefits. He has been able to cancel emergency deployments that took agents off the northern border and sent them to help down south. He said repatriation flights are up, with 35 this week, proving that there are some consequences to jumping the border.
Still, the February numbers had some grim indicators.
Although illegal crossings at the southern border are way down, more illegal immigrants are being encountered at airports and along the coasts. Those numbers have risen from about 31,000 in October to more than 44,000 in February.
Other troubling trends included an increase in vulnerable juveniles traveling without parents. CBP said it encountered 10,870, or 16% more than in January.
Border Patrol agents recorded apprehending 16 more people whose names were flagged on the government's terrorist watch list.
CBP's fentanyl seizures rose sharply, to about 2,300 pounds. It was 1,400 pounds in January. Analysts generally believe that the number of seizures is a yardstick for the total flow, so if more drugs are being confiscated, more are getting through.
Behind those statistics are real stories, some of which were shared with the committee during its meeting in Texas on Wednesday.
Chris Cabrera, a Border Patrol agent and senior official in the union that represents agents, recounted some horrifying cases he has seen. In one recent case, he said, a young boy was abandoned along the Rio Grande with wet clothes in 40-degree weather. His parents were already in the U.S., and he was being brought to reunite with them.
In another instance, agents found a woman in her late 50s who was "pummeled to a bloody pump" by the guides who had smuggled her across the river. Mr. Cabrera said the guides tried to assault her 12-year-old granddaughter. 
"Luckily, she fought 'em off, but she paid the price for it," he said.
He said the solution is clear: Don't catch and release.
"If you did mandatory detention, mandatory removal, we wouldn't see this," he said.
Mr. Cabrera said agents feel they are being misused by the government.
"The Border Patrol is the only union you're ever going to see in the history of unions that is actually asking for more work," he said. "We don't care where you put the coffee pot, we don't care about lumbar supports for our chairs. We just want to go to work. We're just asking that you let us go to work."
Sheriff Brad Coe, from Kinney County, Texas, said Homeland Security on occasions has tried to force him to cooperate in catch-and-release.
He pointed to an accident his deputies handled in which three illegal immigrants sustained minor injuries. The Border Patrol was called, he said, but agents declined to do anything. He called Immigration and Customs Enforcement, which also declined.
"They wanted me to kick them down the road," Mr. Coe said. "I took it upon myself, took them back to the international border, took them to the port of entry and sent them home."
Chief Ortiz said he needs more agents.
He said the agency had 21,370 in 2012. Now it's down to 19,016. He said he needs a total of 22,000.
Congress last year approved money for 350 more agents and Mr. Biden's new budget calls for another 350, though the Border Patrol has had trouble just keeping up with attrition.
Chief Ortiz's testimony tracked closely with that of two of his top lieutenants who serve as chief patrol agents in the Border Patrol's Tucson sector in Arizona and the Rio Grande Valley in Texas.
They testified to the House Judiciary Committee last month that the smuggling cartels control much of the territory in Mexico abutting the U.S. and dictate much of what happens with the illegal flow of people and drugs.
Republican members of the committee called Wednesday's testimony "groundbreaking" and repeatedly praised Chief Ortiz for being so candid in his evaluation of the situation.
Democrats boycotted the hearing, as they did a previous border hearing held by the Judiciary Committee. They labeled the attempt to hear from people in the region a political stunt.
America's Voice, a leading immigrant rights advocacy group, said the hearings give a platform to "dangerous white nationalist conspiracies" but are "light on real solutions."
Click to Read More and View Comments
Click to Hide
---
---