Most Democrats have a favorable view of President Biden, but only one in four want him to run for reelection in 2024, according to a new poll that underscores a quandary at the White House.
The Monmouth University Poll found 74% of Democratic voters view Mr. Biden favorably. Yet only 25% want him to run again and nearly half, or 44%, said they want him to step aside so an alternative can seek the party nomination.
More than half of those with "very liberal political views" want Mr. Biden to cede way to another candidate, compared to just over a third of "strong Democrats." 
---
---
A majority of Democratic voters younger than 50 want to see a different candidate than Mr. Biden, who is 80 years old.
Pollsters said the problem for Democrats is they cannot settle on an alternative to the incumbent.
More than half, or 51%, could not offer a name when asked who should run instead, and Vice President Kamala Harris was the only potential contender to register above the single digits, at 13%, among those with a preferred alternative.
The White House says Mr. Biden intends to run for reelection in 2024, but he hasn't formalized the decision.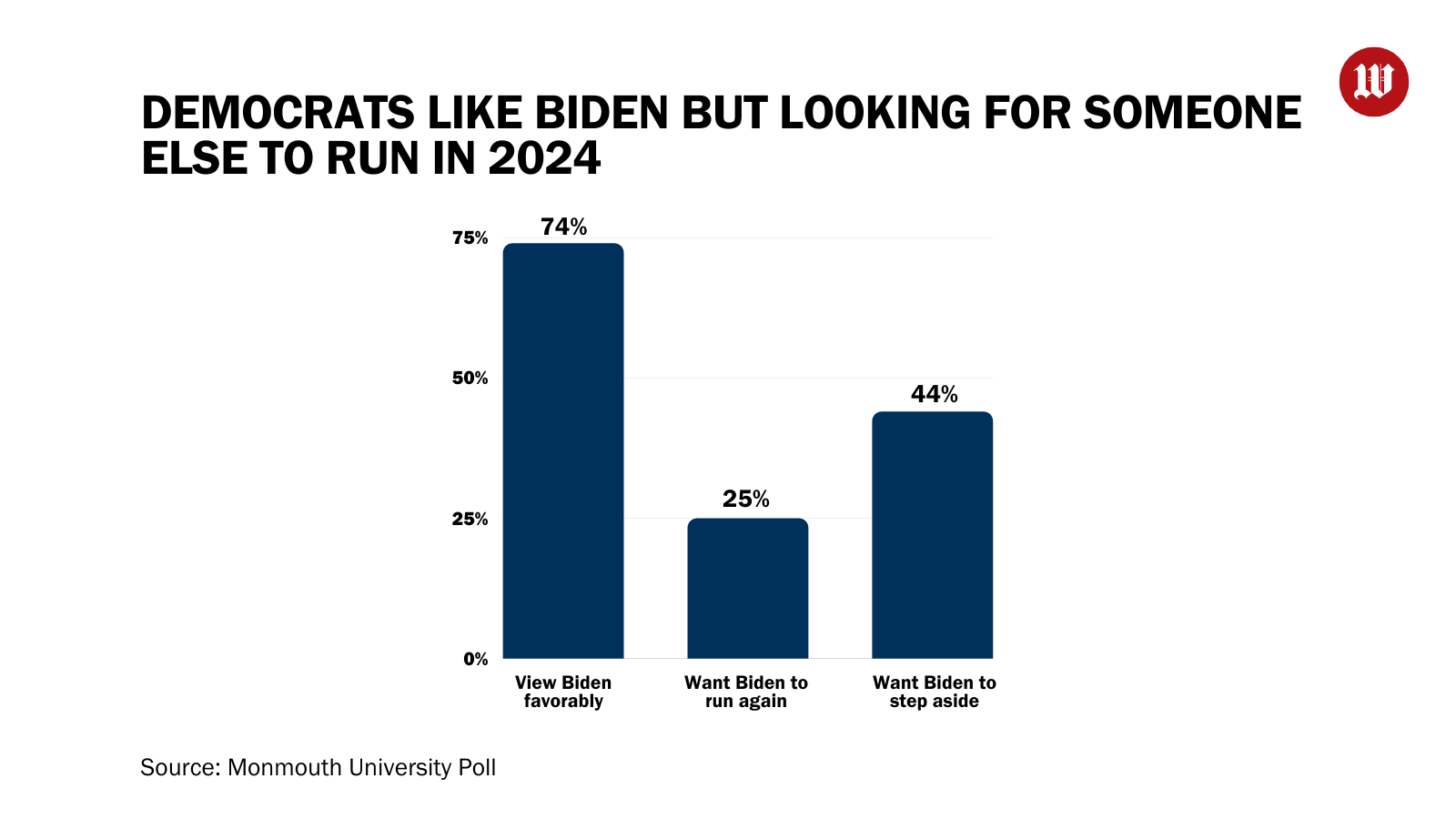 "Democrats appear to be saying they like the job Biden has done, but maybe it's time for him to move on when his term is up. However, no top tier of candidates emerges when these voters are asked to name a preferred alternative," said Patrick Murray, director of the independent Monmouth University Polling Institute. "Part of that could simply be the holding pattern that Democrats are in because Biden has signaled that he will, in fact, run."
Incumbent presidents typically run for reelection as a matter of course. But Mr. Biden's advanced age is a sticking point for some voters, and the incumbent could claim he achieved core objectives by defeating Donald Trump in 2020 and getting significant legislation through Congress.
With Mr. Biden on track to run, pundits can only float alternatives as a type of Washington parlor game. Sen. Bernard Sanders of Vermont is a progressive champion, though older than Mr. Biden at 81, while Sen. Elizabeth Warren of Massachusetts is focused on her Senate reelection.
Those two ran in 2020, as did Transportation Secretary Pete Buttigieg and Sen. Amy Klobuchar of Minnesota. There are possible alternatives among Democratic governors, such as Gavin Newsom of California, Gretchen Whitmer of Michigan and J.B. Pritzker of Illinois.
Mr. Sanders had the highest favorability rating among those names in the Monmouth Poll, at 71%, while Ms. Warren and Ms. Harris registered 64% each.
The poll was conducted from March 16 to March 20 among 542 Democrats and Democrat-leaning voters and had a margin of error of 6.3 points for the full sample.
Click to Read More and View Comments
Click to Hide
---
---