It's already been dubbed Beckapalooza, the Beckoning, Beckstock.
Somewhere between heartfelt sermon and star-spangled sideshow, Fox News host Glenn Beck's "Restoring Honor" event, to be held Saturday at the foot of the Lincoln Memorial, has already attracted outsized praise and criticism. A celebration of faith, personal virtue and traditional American values, the gathering will feature prayers and a speech by former Alaska Gov. Sarah Palin, as Old Glory rolls in the summer breeze and folks get in touch with their inner patriot.
"It's going to be overwhelming," Mr. Beck predicted on his show Thursday evening.
But the political aftershocks of the gathering are proving harder to gauge.
Mr. Beck insists the three-hour gathering will not be a political rally, a "tea party" celebration or even a vehicle for personal aggrandizement. But defining what it is has proved to be an irresistible challenge for supporters and skeptics alike.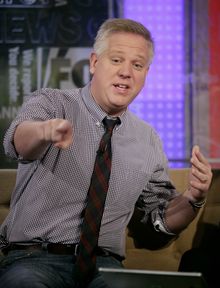 The event has attracted much buzzy press attention and vigorous criticism from liberals such as MSNBC's Keith Olbermann, who framed the event as an "end of days" extravaganza, and is questioning Mr. Beck's sanity. Think Progress editor Faiz Shakir simply declared, "the guy is insane," while liberal watchdog Media Matters for America said Mr. Beck was guilty of "outrageous hyperbole."
Democratic political organizations jumped on the bandwagon, gleefully pointing up the low-key welcome GOP establishment groups have given the rally.
"The fact that [Republicans] are trying to plead ignorance is just completely absurd," said Ryan Rudominer, a spokesman for the Democratic Congressional Campaign Committee.
But the phrase "crazy like a fox" could apply here to Mr. Beck and his event. And timing is everything.
Organized with the Special Operations Warrior Foundation more than eight months ago, the gathering will unfold on the 47th anniversary of Martin Luther King Jr.'s iconic "I Have A Dream" speech, virtually on the same spot where the civil rights leader stood in 1963, shaping his destiny as well as the nation's. Mr. Beck said the coincidence was not planned.
"It's not the date. It's the message," Mr. Beck said Thursday.
This does not sit well with the Rev. Al Sharpton and other civil rights activists, who are vexed with the outspoken Mr. Beck and convinced he seeks to capitalize on King's legacy to enhance his own clout.
In a broadcast last year, Mr. Beck noted that President Obama was "a guy who has a deep-seated hatred for white people or the white culture. I'm not saying he doesn't like white people. I'm saying he has a problem. This guy is, I believe, a racist."
With the support of the National Association for the Advancement of Colored People and the National Urban League, Mr. Sharpton will stage a "Reclaim the Dream" counterrally at the new Martin Luther King Jr. memorial site just a few hundred feet away from Mr. Beck's temporary stage.
Mr. Beck has said he hopes to build on King's dream of racial equality, not challenge it. And he has some potent backup: Alveda King, niece of the slain civil rights activist, is a featured speaker at the Beck rally.