Regional airports and some local officials are joining the swelling protest against more intrusive "pat-down" screening measures at airport security checkpoints, eyeing new laws against so-called "naked X-ray" machines and perhaps even opting out of the Transportation Security Administration screening altogether.
"Our Constitution encourages local governments to stand up when the federal government goes too far," New York City Council member David G. Greenfield, who is exploring a move to ban the X-ray machines from the city, told The Washington Times, "These naked X-ray machines … constitute an unreasonable search," which violates the Fourth Amendment, he said.
The rebellion erupted as TSA Administrator John Pistole expressed concerns about a threatened nationwide passenger protest Wednesday that could worsen delays and spark chaos on one of the busiest travel days of the year.
"One of the great things about America is that people can protest," Mr. Pistole told reporters at a Monday breakfast sponsored by the Christian Science Monitor.
"My real concern for this is that vast majority of travelers who are simply trying to get home to be with loved ones for the holidays, if they miss a flight because a group of people are blocking access or because they're taking extended periods of time, I feel bad," he said.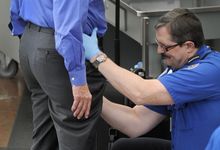 But Obama administration officials were standing firm on the security policies despite the outpouring of protest. Mr. Pistole said his agency was fully staffed and was hiring support workers where needed.
"We'll see what happens," he said.
Although he said no changes were in store in the short term, Mr. Pistole left the door open to reconsider and refine the program should the backlash continue to grow.
"What I'm doing is going back and [asking], 'Are there less invasive ways of doing the same type of screening?'" he said on ABC's "Good Morning America."
New York is not the only locality questioning the new federal security program and looking to private security firms to replace TSA inspectors.
"We believe in private enterprise; that's what this country was built on," said Larry Dale, president of Sanford Airport Authority in Orlando, Fla., which recently joined 16 other airports that are not participating in the TSA program. Mr. Dale said the private screeners would provide "better accountability, better productivity and be more responsive to customers."
"I have had some very unpleasant experiences" with TSA screeners "just from an attitude point of view," he said, adding that the profit motive would ensure better performance and more positive treatment of passengers.
The Advanced Imaging Technology (AIT) machines, designed to spot nonmetallic objects concealed under clothing, were rolled out last year by the TSA and have been installed at nearly 70 of the 450 U.S. commercial airports. Since Nov. 1, they have been paired with more intrusive pat-downs for passengers who either decline to go through the scanners or in whose clothing the machine detects something suspicious.
The delays, frisking and potential for abuse have sparked widespread outrage.
Mr. Greenfield said he was preparing legislation that would ban the use of AIT machines in New York's John F. Kennedy International and LaGuardia airports.