China isn't content playing a critical role in the U.S. economy by gobbling up chunks of the national debt.
Now the global powerhouse is exporting some of its most popular films to American theaters, courtesy of AMC Entertainment. The theater chain is showing "Aftershock," the highest-grossing film in the Asian nation's history, and not in traditionally subtitle-friendly art houses but in multiplex theaters alongside Hollywood blockbusters.
It's part of an exclusive deal between AMC Entertainment and China Lion Film Distribution. The pact will bring up to 15 Chinese films per year to American theaters to be released on the same date in both countries — also contrary to the usual practice of releasing foreign-language films in the U.S. months after their home-country release and/or screening at American festivals.
"Aftershock" uses two devastating earthquakes — the 1976 Tangshan quake and the 2008 Sichuan quake, which killed about 250,000 people and 70,000 people, respectively — to frame a tale of a young mother forced to make a "Sophie's Choice"-type decision regarding the safety of her two children.
After a San Francisco Bay area opening last month, the film expanded recently to 23 AMC screens in eight U.S. markets with sizable Chinese-American populations — including two venues in the D.C. area, the AMC Hoffman Center 22 in Alexandria, Va., and the AMC Loews Georgetown 14 in the District.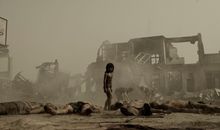 The sprawling epic earned more than $100 million in its homeland and will be the country's official selection for best foreign-language film at the 2010 Oscars. The film is being shown with its original Chinese soundtrack and subtitles in English and Chinese.
Chinese films traditionally reach U.S. shores via independent theater houses, such as the Landmark Theatres chain. The AMC gambit could change that pattern while extending China's cultural reach.
Sean Phillips, executive producer of Yahoo Movies, called it a bold and calculated move for foreign movies such as "Aftershock" to bypass traditional art-house venues.
"It's a totally viable experiment for AMC. ['Aftershock] is a movie that already has great popularity and was made with care and quality," Mr. Phillips said. "Some audiences, even non-Chinese audiences, might be interested in films like this."
AMC boasts the kinds of resources that mom-and-pop indie theaters often lack.
"They have control over what trailers go up in their chains. If they really wanted to dedicate some of their promotional real estate, they can make it happen," he said.
AMC President of Programming Robert J. Lenihan said in a statement that the deal is similar to others that the company struck with Bollywood and Latin American-based films. The theater chain did not respond to messages from The Washington Times for further comment.
The film was not listed at Box Office Mojo, making it hard to tell how well "Aftershock" is doing. A Sunday afternoon show in Georgetown had, in addition to a Times reporter, just three viewers in the theater.
Still, members of the small audience said afterward that they enjoyed the film. Michael Cullingford, 70, and his wife, Suying, 55, were at "Aftershock" at their daughter's suggestion. Mrs. Cullingford was in China during the 1976 earthquake in Tangshan and experienced that time in China's history firsthand.
The couple said it was a "very good movie" and showed the strength of family. Mr. Cullingford added that its representation of China was "very accurate, very truthful and very realistic."