The Obama administration has offered to take Sudan off a U.S. list of state sponsors of terrorism if the Sudanese government holds a credible and on-time referendum on southern independence.
The Obama administration has taken a decision "to move up our readiness to rescind the designation of Sudan as a state sponsor of terrorism as early as July 2011," a senior administration official said in a background briefing on Sunday.
Sudanese President Omar Bashir's National Congress Party (NCP) has demanded for several years that Sudan be removed from the list.
Some leaders in the region also have suggested that taking this step would help persuade the Khartoum government to hold a credible referendum on Jan. 9, the date specified in the 2005 Comprehensive Peace Agreement (CPA).
The U.S. offer is subject to conditions. Khartoum must: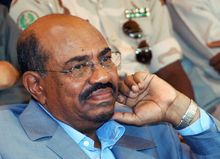 • Meet the CPA's obligations to prepare for and conduct a transparent, on-time referendum.
• Respect the results of the referendum vote.
• Implement all post-referendum agreements, including those related to border demarcation, oil-revenue sharing, currency and citizenship.
"And we've also made very clear to the parties … that we will continue to monitor conduct as it relates to Darfur," the U.S. official said, adding that the targeting of civilians, the denial of humanitarian access and the hindrance of African Union and U.N. peacekeepers will "reflect negatively on our abilities to carry out these steps."
A second U.S. official, who also spoke on background, described the offer as "performance-based."
Sen. John Kerry, Massachusetts Democrat and chairman of the Senate Foreign Relations Committee, conveyed the administration's message in meetings with Sudanese leaders in Sudan over the weekend.
Mr. Kerry, who traveled to Sudan at President Obama's request, met NCP officials and southern Sudanese leaders, including South Sudan President Salva Kiir and Vice President Ali Osman Taha.
Mr. Kerry said Sudan now has the opportunity to "define itself for the world and create a better, more peaceful, and more prosperous future for all the Sudanese people."
"President Obama made clear in the proposal conveyed this weekend that if Sudan's leaders take concrete steps to implement the Comprehensive Peace Agreement, including recognizing the results of the referendum in January, he is prepared to immediately take significant steps to begin to transform the bilateral relationship," Mr. Kerry said. "This would be the beginning of a new road map for addressing key bilateral issues as post-referendum issues are resolved."
Jonathan Temin, a senior program officer at the U.S. Institute of Peace, described the U.S. offer as an "important incentive."