A group of Senate conservatives issued an early challenge to their Republican colleagues, calling on them in an open letter to support a ban on earmarks — a stance the House GOP embraced earlier this year.
"Americans want Congress to shut down the earmark favor factory, and next week I believe House and Senate Republicans will unite to stop pork-barrel spending," said Sen. Jim DeMint, South Carolina Republican. "Instead of spending time chasing money for pet projects, lawmakers will be able to focus on balancing the budget, reforming the tax code and repealing the costly health care takeover."
The earmark battle may be the first test of strength for the Senate conservative bloc led by Mr. DeMint, who has shown a willingness to clash with his own leaders in Washington and could soon be joined by a number of like-minded conservatives in the wake of the midterm elections.
In the letter sent Tuesday to Sen. Lamar Alexander, chairman of the Republican Conference, Mr. DeMint and nine other Senate Republicans — including six incoming freshman — announced their plan to pursue a rule change at the group's Nov. 16 meeting.
Pressure started to build against Senate Republican leaders in March after their House counterparts voted to ban members this year from requesting earmarks. Since then, nearly every member has stuck to the pledge and House leaders now hope to extend the ban for another year, arguing that it will help them build credibility as budget cutters.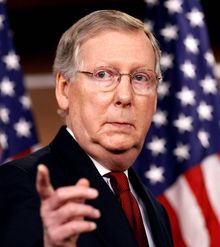 But getting Senate Minority Leader Mitch McConnell on board has proven difficult. He voted for a ban and against a similar proposal two days apart in March, and recently expressed only lukewarm interest in ending the practice.
Appearing Sunday on CBS' "Face the Nation," the Kentucky Republican said that he would be "willing to consider" a moratorium, but "the problem is that it doesn't save any money."
"What we really need to do … is to concentrate on reducing spending and reducing debt," he said. "This debate doesn't save any money, which is why it's kind of exasperating to some of us who really want to cut spending."
Steve Ellis, vice president at Taxpayers for Common Sense, a nonpartisan spending watchdog group, said that Mr. McConnell, a member of the appropriations committee, has "earmarking in his DNA."
"It is something he's politically grown up with and something that he likes to do," Mr. Ellis said. "So he finds changing that or losing that power as an anathema."
The effort is also likely to meet resistance from a number of senior GOP senators, who have staunchly defended the practice as a congressional prerogative whose impact on the deficit has been greatly overstated by critics.
Sen. James M. Inhofe, Oklahoma Republican, has been particularly outspoken, saying in a statement: "It would be nothing short of criminal to go to all the trouble of electing great new anti-establishment senators, only to have them cede to the executive branch their constitutional power and obligation, which is exactly what a moratorium on earmarks would do."
Though earmarks account for less than 1 percent of federal spending, they have become symbolic of the worst abuses of Congress, with former members serving prison time for trading earmarks for gifts.
"We'll never be trusted to be the party of less spending while we're rationalizing more spending through earmarks," said Sen. Tom Coburn, Oklahoma Republican. "Earmarks do nothing to hold the executive branch accountable. In fact, earmarks are the gateway drug to spending addiction in Washington. Major spending bills often pass because they contain earmarks."
Democrats, since taking control in 2007, have prohibited members from benefiting personally from earmarks and have required every earmark request to be posted on a member's website. The transparency allows watchdog groups to track the formerly murky process.