KURDISH MISSION
Kurdish-American leaders are urging Turkish Ambassador Namik Tan to help them organize a mission to the war-torn Kurdish region of Turkey to appeal to rebel leaders to declare a unilateral end to the 26-year-old conflict that has claimed tens of thousands of lives.
Dr. Kamal Artin, president of the Kurdish National Congress of North America, wrote Mr. Tan on Monday to ask him for assistance in preparing for a visit from a peace delegation of Kurdish-Americans who would try to talk directly with Kurdish rebels.
"We, as Kurdish National Congress of North America and a delegation of American citizens, would welcome the opportunity to help you and officials of the Turkish government to come together with … the Kurdish resistance … to seek concurrence of parties on both sides to adopt policies, procedures and practices that would assure all the people of Anatolia the right to live together in peace and harmony," Dr. Artin wrote.
"Toward that end, we are volunteering to visit the Kurdish leaders and encourage them to unilaterally end the war and denounce any form of violence or, failing that, to have them agree to meet and confer with officials of the Turkish government and its armed forces to explore nonviolent resolution of the conflict."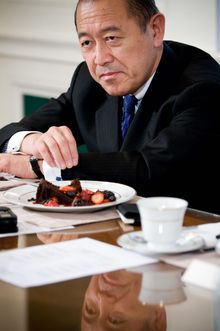 The Turkish Embassy in Washington was still reviewing the letter on Tuesday.
The rebels of the Kurdish Workers' Party are observing a self-declared cease fire that could end Sunday unless the Turkish government of Prime Minister Recep Tayyip Erdogan demonstrates "positive" responses to their demands for cultural and political autonomy, rebel leader Murat Karayilan told London's Independent newspaper last week. They had been fighting for a separate Kurdish homeland.
The rebels took up arms against Turkey in 1984 and opened a bombing campaign against military, government and civilian targets. The United States, the European Union and Turkey have declared the rebels to be part of a terrorist organization.
In his letter to the ambassador, Dr. Artin took a diplomatic position between the two sides.
"The aspirations of the Kurds need not be in conflict with the sovereignty of the Turkish state, and we do not take sides with either party to the conflict," he wrote.
"We do not judge who started what and how the violence in Anatolia was initiated and escalated. What is important is to end the violence with peaceful means and grant all the people of Anatolia an equal opportunity to secure their personal fulfillment."
JAPAN, Y'ALL
Japanese Ambassador Ichiro Fujisaki loves Southern hospitality and the South's mostly nonunion work force, which makes the region a good place for Japanese car companies.
"Japanese businessmen are rather shrewd and know where to put their money," Mr. Fujisaki told the Tennessean newspaper this week.
"They see four basic features that attract capital here. First is labor. The South has excellent labor, well educated and well trained. Then there is infrastructure. This nation has great infrastructure to move material and for transportation.