The Obama administration has ordered a review of U.S. intelligence about David Coleman Headley, the Pakistani-American involved in plotting the 2008 terrorist attacks in Mumbai, to find out whether intelligence agencies failed to share reports that may have helped prevent the attack.
The review comes on the eve of President Obama's visit to India and as a senior Indian official accused the U.S. of failing to share information on Headley, who traveled on reconnaissance missions to India before and after the attack.
James Clapper, the director of national intelligence, has ordered the "after-action review," an official in the Office of the Director of National Intelligence (ODNI) said, speaking on the condition of anonymity.
"This is an after-action review initiated by the director of national intelligence to determine comprehensive intelligence-community lessons learned — the ODNI is working with the appropriate [intelligence community] elements," the official said.
The official said such a review is an important part of "improving existing processes."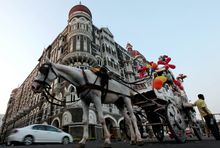 Ben Rhodes, deputy national security adviser for strategic communication, told reporters on Wednesday that the national intelligence director had ordered a "full review of everything that we knew related to the Headley case."
Terrorists killed 164 people, including six Americans, and wounded many more in the attack on Mumbai, which lasted three days and involved terrorists using assault rifles and grenades in hotels.
According to recent reports by ProPublica and the New York Times, Headley's two ex-wives told U.S. law enforcement officials in 2005 and 2007 that he was training with the anti-India terrorist group Lashkar-e-Taiba in Pakistan and also had shopped for night-vision goggles and other equipment.
Headley made five trips to Mumbai before the 2008 attacks: in September 2006, February and September 2007, and April and July 2008. On each visit, he made videotapes of potential targets, including those attacked in November 2008.
In March 2009, he made a sixth trip to India to conduct additional surveillance, including at the National Defense College in New Delhi and at Chabad Houses in several cities.
Indian Home Secretary G.K. Pillai said this week that the Indian government was "disappointed that the name of David Headley was not provided, if not pre-26/11 at least post 26/11. So that when he came subsequently in March 2009 to India at least at that time we could have nabbed him here."
India refers to the attacks that began on Nov. 26, 2008, as "26/11."
Headley, a former Drug Enforcement Administration (DEA) informant, had been under U.S. surveillance for at least two years before his arrest in Chicago on Oct. 3, 2009.
ProPublica, citing unidentified federal officials, said Headley received terrorist training in Pakistan while he was working as a DEA informant.
Earlier in 2008, the U.S. warned India that an attack was being planned in Mumbai. Security was beefed up at potential targets in the port city but was relaxed when weeks passed without incident.