WASHINGTON — When D.C. Mayor Vincent C. Gray and six council members were booked by U.S. Capitol Police for blocking traffic during a protest last week, folks like Barton Turner got inspired.
"I'm honored by that, as a citizen," said the 57-year-old Northwest resident while holding a one-man protest outside the John A. Wilson Building on Thursday. "I'm thinking I'm going to get arrested next week."
Mr. Turner was alone, yet he reflected the large number of D.C. residents fuming over a federal budget deal that they say took a swipe at the District's autonomy.
That fervor, it seems, might save Mr. Gray's political career.
It's no secret that the mayor's first 100 days in office have had myriad problems. Critics said Mr. Gray, a Democrat, didn't move fast enough, that his transition lacked transparency and that cronyism ruled the appointee process. Federal and local investigators are looking into a former city employee's claims he got cash payments and the promise of a city job to bash incumbent Mayor Adrian M. Fenty in the 2010 mayoral elections.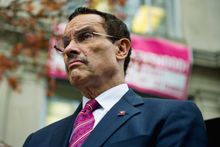 But when Congress used an 11th-hour budget deal to strip the District of its right to fund abortions with local dollars and to reinstate a school-voucher program, Mr. Gray reclaimed the momentum that had propelled him to office by a decisive margin and arguably had his best week as D.C.mayor.
Mr. Gray's tour de force began Monday with the arrest, an hours-long affair that began with a sit-down in the middle of Constitution Avenue and ended with a late-night fine and release to waiting television cameras. Mr. Gray, the council members and other cuffed protesters dubbed themselves the "D.C. 41."
Two days later, the mayor showed off his arrest bracelet and listed other affronts against his city. Congress, he said, swiped D.C. Delegate Eleanor Holmes Norton's vote in the Committee of the Whole; too many people think the city subsists on a special federal payment; and one time, the mayor said, he heard a state legislator say he didn't know anyone actually lived in the District.
Mr. Gray's comments were part of a busy week that included press events with specific backdrops; namely, a Planned Parenthood office to protest congressional actions on abortion and the Ross Elementary School near Dupont Circle to condemn the voucher deal.
"We know everything else is on the table, isn't it?" he asked.
Mr. Gray, who fared poorly in a popularity poll last month, has taken offense to the suggestion his arrest was a public relations move to turn the tide of popular sentiment.
"That's ludicrous," he told reporters. "I'm responding to actions taken vis-a-vis our city. What would you have said if I had done nothing?"
He said the protest and resulting arrests were "fully unscripted." According to the mayor, he approached the curb, suggested to council members that they step into the street, then plopped down in the middle of the roadway.
"It was spontaneous combustion," Mr. Gray said. "I think we had reached the point where the outrage had boiled over."
More important than how the move originated may be how it was perceived.