A newly released State Department cable reveals Chinese intelligence-gathering efforts in Chile and U.S. concerns that Beijing's growing ties to the Chilean military will compromise U.S. defense secrets shared with the South American nation's armed forces.
"Sources have told the [U.S.] Embassy [in Santiago] that Chile's close military ties with the United States are of great interest to the Chinese," said the Aug. 29, 2005, cable, labeled "secret."
"There is concern that the Chinese could be using Chilean officers and access to the Army training school to learn more about joint programs, priorities and techniques that the Chileans have developed with their U.S. counterparts."
The cable said U.S. officials based in Chile worked with their Chilean counterparts to "sensitize them to the security and intelligence threats emanating from China."
The cable, which was released by the anti-secrecy website WikiLeaks, is a rare disclosure of U.S. government concerns about Chinese intelligence-gathering, a problem highlighted by numerous U.S. espionage-related cases and technology-theft prosecutions over the past five years.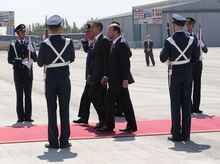 The cable said Chinese intelligence and security organizations will step up spying in the key South American state as its business interests grow.
A key worry is that as a result of closer U.S. military cooperation with the Chilean military, "Chinese interest in [U.S. government] activities in the Southern Cone will most assuredly increase," said the cable.
"The Chinese will likely attempt to learn more about U.S. military strategies and techniques via Chilean participation in bilateral training programs and joint exercises."
Emilia Edwards, a spokeswoman for the Chilean Embassy in Washington, had no immediate comment.
Jamie Smith, a spokeswoman for Director of National Intelligence James R. Clapper, declined to comment. A Pentagon spokesman had no immediate comment.
Mr. Clapper told the Senate Armed Services Committee on March 10 that counterintelligence against foreign spying threats is "another area of great concern to me."
"We face a wide range of foreign intelligence threats to our economic, political and military interests at home and abroad," he said.
A recent report by the congressional U.S.-China Economic and Security Review Commission was more specific. It quoted U.S. counterintelligence officials as saying Chinese spying is "growing in scale, intensity and sophistication."
"The Counterintelligence Community considers the People's Republic of China to be one of the most aggressive countries targeting U.S. military, political and economic secrets, as well as sensitive U.S. trade secrets and technologies," the report said, quoting a May 2009 statement from the Office of the Director of National Intelligence. "For a number of reasons, we believe China poses a significantly greater foreign intelligence threat today than it did during most of the Cold War era."
The cable traced growing Chile-China military ties to the October 2004 visit to China by the Chilean army chief of staff, Gen. Juan Emilio Cheyre, now retired, who agreed then to set up a Mandarin-language training program for the Chilean military.