High-stakes negotiations to head off a government shutdown went down to the wire Thursday night after President Obama rejected a last-minute bid by House Republicans to give the rest of the government a one-week reprieve on a shutdown.
Mr. Obama said he would veto a House-passed bill that would fund U.S. troops through the end of fiscal year 2011 and fund the rest of government through April 15. That veto threat leaves just two options: Either all sides could agree to a full-year deal to fund all of government, or the government will shut down at midnight Friday.
Mr. Obama, House Speaker John A. Boehner and Senate Majority Leader Harry Reid met privately twice Thursday to try to reach an agreement, but publicly engaged in a testy brinksmanship.
"We made some progress today. Those differences have been narrowed," Mr. Obama announced at the White House after another nighttime meeting, the second time the three men gathered Thursday. "There's still a few issues that are outstanding. They're difficult issues. They're important to both sides."
He said staffers from all sides will work throughout the night, and said he expects an answer back from Mr. Reid and Mr. Boehner "sometime early in the day" on Friday as to whether he should begin the process of shutting the government down.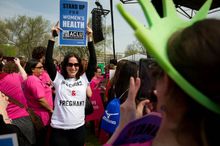 In a joint statement, Mr. Reid and Mr. Boehner agreed the issues "have narrowed," but said nothing more about the sticking points or the chances of success.
A shutdown would shutter national parks and the Smithsonian, and could halt Internal Revenue Service tax audits and processing of tax returns that are filed on paper, though electronic refunds still will be sent. Social Security and Medicare benefits will still be paid, though new applications could be delayed.
Administration officials said about 800,000 federal workers, about 20 percent of the total federal workforce, would be furloughed.
There are three moving parts to the negotiations to try to work out a long-term deal: The total dollar amount of cuts to be made from last year's spending level, the makeup of those cuts, and what legislative add-ons, known as "policy riders," will be included.
In February, the House passed a bill that cut $61 billion from 2010 spending levels, and included dozens of riders such as stopping federal funding for Planned Parenthood and halting Obama administration plans on health care and the environment.
The Senate, meanwhile, has yet to pass a bill of its own. Last year's Democrat-led Congress did not pass a budget or any of the annual appropriations bills for 2011, instead funding the government through a series of continuing resolutions.
With negotiations sputtering on a full-year bill to run through Sept. 30, the end of fiscal year 2011, House Republicans sought to give the sides a one-week reprieve, as has happened six times already. Mr. Obama has said that short-term funding bills must cease.
The Republicans wrote a bill to fund the military fully through the rest of fiscal year, while keeping other government functions funded through April 15, which they said would allow more time to strike a broader deal.
On Thursday, the bill passed by a 247-181 vote with 15 conservative-leaning Democrats joining most Republicans in backing it. Six conservative members of the GOP voted against the bill.
But just before the vote, the White House issued a statement promising a veto.