Foreign female snipers in Tripoli mounted a fierce resistance against Libyan rebels Thursday, as fugitive dictator Moammar Gadhafi tried to rally last-ditch supporters to save his 42-year reign over the North African nation.
Elsewhere in the Libyan capital, rebels fought Gadhafi loyalists in an apartment complex in Abu Saleem, a poor neighborhood where they believe Col. Gadhafi or his sons are hiding.
Rebels breached Col. Gadhafi's fortified military compound, Bab al-Aziziya, adjacent to Abu Saleem on Tuesday but found no sign of the dictator or his family. Col. Gadhafi has been on the run since rebels stormed Tripoli, the capital, on Sunday.
A group of rebels has offered a $1.7 million bounty for Col. Gadhafi's capture, and the rebel National Transitional Council has offered amnesty to anyone who finds him dead or alive.
Col. Gadhafi broadcast another appeal to his dwindling number of supporters Thursday, but he has not been seen in public since Sunday.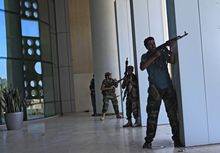 In an audio message broadcast on Al Arabiya television on Thursday, Col. Gadhafi described the rebels as "rats" and urged his supporters not the leave Tripoli in their hands.
"Don't leave Tripoli for the rats. Fight them, fight them, and kill them," he said.
Urging "martyrdom or victory," Col. Gadhafi called on supporters outside the city to "continue their march to Tripoli."
"The enemy is delusional. NATO is retreating. It cannot go on forever in the air. NATO be damned," he shouted.
NATO has supported rebels through an air campaign aimed at protecting civilians. The blurring of battle lines in Tripoli has restricted the alliance's ability to help.
Moussa Ibrahim, the regime's spokesman, claimed in a call to the Associated Press that Col. Gadhafi is safe and inside Libya. He said the dictator is capable of leading the resistance for "weeks, months and years."
Pro-Gadhafi forces put up a fierce fight near the dictator's tribal stronghold, Sirte, on the Mediterranean coast.
Residents living near Bab al Aziziya said rebels had "purified" the area of Gadhafi loyalists.
Near Tripoli's Ghargour neighborhood, just south Col. Gadhafi's compound, residents said snipers, including women, had exacted a heavy toll from their vantage points atop buildings.
"Female snipers have been shooting from buildings along the airport road and it's not safe to go outside," said Amani, a resident who only gave her first name out of concern for her family's safety.