ANALYSIS/OPINION
My observations, analysis and conclusions about the Washington Redskins' defense after re-watching their 34-31 preseason loss to the Baltimore Ravens using the TV broadcast:
If the first three preseason games are a good indication, ROLB Brian Orakpo's evolution has significantly advanced. He has been immeasurably better in the running game than he was last season. It used to be that one blocker could latch onto him and take him out of a play. Now he's shedding blocks and making tackles. He brushed FB Vonta Leach aside to stop RB Ricky Williams for a 3-yard gain on the last play of the first quarter.
Want more Orakpo? There's plenty. He set the edge on a 1-yard carry by RB Ray Rice. He later ran through Rice to hit QB Joe Flacco on a third-down incompletion.
Later on that drive, he sacked Flacco after stutter stepping inside off the snap, lulling LT Michael Oher to sleep. Oher either thought Orakpo was going to drop in coverage or stunt inside because he turned his attention to the right, allowing Orakpo to come free.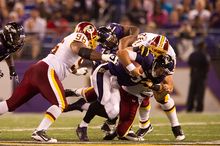 Coach Mike Shanahan would be wise to rest players such as Orakpo next week. He has showed enough.
***
Speaking of injury risks in meaningless preseason games, the loss of rookie DE Jarvis Jenkins is a big one. He was active again Thursday in collapsing the pocket before he got hurt. Jenkins' right knee gave out when he tried to plant and anchor against Ravens RT Jah Reid. There was no contact below the waist.
The impact of Jenkins' absence immediately was evident. DE Darrion Scott, who replaced Jenkins in the game, too often was slow off the ball. Offensive linemen were able to initiate contact against him and control him more easily than they could Jenkins.
Also, Jenkins no longer is an option to fill one of the two down lineman spots in the nickel package. NT Barry Cofield and DE Stephen Bowen filled that role with the first-string on Thursday. Those two are talented pass rushers, no doubt, but it's fair to wonder whether they'll wear down over the course of an entire season. Losing Jenkins from that rotation is huge.
Jenkins also had been working on the first-string kickoff return unit.
***
Say what you want about CB DeAngelo Hall, you can't deny he's exciting to watch. Big plays — good or bad —seem to find him. Let's review four plays he was involved in:
Hall surrendered a 14-yard completion to WR Lee Evans on the Ravens' second play. Hall sometimes will afford a big cushion to a receiver capable of running by him, and Evans has that ability. But another reason for the large cushion on this play: The Redskins blitzed eight — count 'em, eight — people, including all four linebackers. I don't remember ever seeing that last season. Hall had no safety help, so he played it safe with the cushion.
Two plays later, Hall was in the end zone. Either he saw something on film that prompted him to jump WR Anquan Boldin's curl route or he didn't respect Boldin's ability to beat him with a double move. Or both. Whatever the reason, that was Hall at his best. He did have help from FS Oshiomogho Atogwe, so he could afford to gamble. I'd like to know why Hall cut back on his return when it appeared he had a clear path to the end zone. Perhaps he thought Boldin might catch him from behind.