North American pediatricians want to KO youth boxing.
In a new joint policy statement released Monday, the American Academy of Pediatrics and the Canadian Paediatric Society discourage boxing among children and teenagers, citing the possibility of concussions, facial damage and other injuries. They're calling on doctors and parents to steer youngsters away from the ring and toward less dangerous activities such as swimming and tennis.
"We want children and teens to actively pursue sport and recreation, but boxing is not a good option. We recommend young people participate in sports where the prime focus is not deliberate blows to the head," said Claire LeBlanc, co-author of the study and chairwoman of CPS' Healthy Active Living and Sports Medicine Committee.
But boxing proponents say the age-old sport promotes physical fitness, sportsmanship and discipline among youths and point out that every sport carries injury risks. A teenager, they argue, could dislocate a shoulder playing baseball, blow out a knee running track or strain his back during a croquet match.
"I think it's propaganda," said Marshall Cunningham, a former amateur boxer who runs the District's Youth Boxing program, of the study. "It's a little paranoia and ignorance. I don't think boxing is anywhere near as dangerous as other sports like football, baseball. [Critics] don't understand the sport. They don't know anything about it."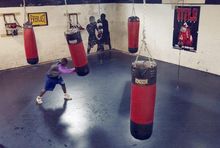 Parents, particularly those in the inner city, Mr. Cunningham said, see boxing as a "positive alternative" to hanging out on the street or turning to drugs and alcohol, and they see value in allowing their children to take out their natural aggression in the ring.
The program is a Department of Parks and Recreation initiative that serves 8-to-21-year-olds. More than 80 young people take part in the program, which operates at three locations in the District.
Mr. Cunningham points out that all amateur boxers wear protective headgear, along with the traditional gloves and mouthpieces. Injuries are rare, he said, and anyone injured in a fight must be cleared by a physician before he can step back through the ropes.
About 18,455 people were hospitalized with boxing injuries in 2009, according to the most recent data from the National Electronic Injury Surveillance System, a yearly sampling of hospital admissions by the Consumer Product Safety Commission.
That puts boxing far below more popular sports such as football and basketball, which caused 451,961 and 501,251 injuries, respectively. Boxing led to fewer injuries in 2009 than sledding, which was responsible for about 31,755 hospital admissions, and pellet guns, which caused about 22,630.
However, pediatricians argue that programs like Mr. Cunningham's encourage boxing among youths and thus contribute to the long-term health problems that even adult fighters face.
They also point out that young boxers' brains are more susceptible to concussions. A teenager also may be more likely to suffer cuts of the face, and recovery from all types of injuries can take much longer, the report states.
In addition, Ms. LeBlanc said, boxing poses moral problems because "athletes are rewarded for dedicated and deliberate hits to their opponent's head."
Some amateurs can begin feeling the effects before they've even gotten their driver's licenses, said Buddy Harrison, father of 17-year-old professional boxing phenom and D.C. native Dusty Harrison.
"I see 15-year-olds, and they're stuttering already," Mr. Harrison told The Washington Times on Monday.