ANALYSIS/OPINION
Wes Unseld embodied toughness for the Washington Bullets throughout the '70s, providing an imposing presence in the paint. The same was true of the "Bruise Brothers," Jeff Ruland and Rick Mahorn, whose picks and elbows were a menace to opponents in the early '80s.
No one is suggesting that the 2011-12 Wizards will remind you of your father's Bullets. But whatever Washington lacks in might, it has the potential to overcome through height.
"It's intimidating to look at our team," owner Ted Leonsis said Thursday during the Wizards' media day at Verizon Center. "We go 7-feet, 6-11, 6-11, and we're bringing guys who are 6-11 off the bench. Our 6-9 and 6-8 players play with a lot of enthusiasm and energy. It's a big person's league."
Guards and wings get most of the NBA love. But the best way to stop them, or slow them down, or prevent second-shot opportunities, is with formidable bigs near the basket.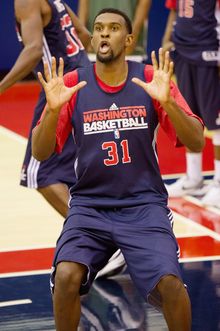 That could be a Wizards' strong point this season.
There's 7-foot-1-inch center JaVale McGee, who at 23 is still a pup entering his fourth season. He's trying to harness his considerable athleticism, develop a solid post game and forsake the foolish full-court forays. But he's got the shot-blocking thing down, good for No. 2 in the NBA last season with 2.4 per game.
"If he's blocking 2 1/2 shots every game, how many more is he changing?" team president Ernie Grunfeld said.
Quite a few, though he'll be a better overall defender when he passes on some shot-block attempts instead of leaving his man open. A significant portion of training camp was devoted to defense and McGee gives Washington a good last line.
His frontcourt mates aren't as proficient at swatting field-goal attempts but they're long enough to bother shooters. Forwards Andray Blatche and rookie Jan Vesely stand at 6-11 and 7 feet, respectively, while Rashard Lewis and newly acquired Ronny Turiaf check in at 6-10. Rookie Chris Singleton plays bigger than his listed height of 6-9, and 6-10 Kevin Seraphin is another candidate for the rotation.
"Our defense at this point has definitely improved," coach Flip Saunders said. "We're extremely long, physical and athletic, and we have some people that have the ability to guard people off the dribble and contain."
Athleticism can take a player a long way, sometimes too far and too fast. Wall learned the hard way last season when too many breakneck rushes resulted in turnovers. But the Wizards must rely on youth and athleticism because they're woefully short on experience and (a track record of) smarts.
Rookie Shelvin Mack will have vital role as backup point guard. But the other two rookies - first-rounders Vesely and Singleton - "are going to help differentiate the team," Leonsis said.
"Jan is 7-feet tall but doesn't run like a 7-foot player," he said. "He has a natural gait that you can't teach and he's really fast. He's one of those players who's going to be really hard to match up against. If you're small and agile, he's bigger than you, and if you're big, he's faster than you."
If training camp is any indication, alley-oops from Wall to Vesely could become a staple on NBA highlights this year. Vesely's freakish athleticism allowed him to come in second behind Wall in recent suicide drills.