Signaling defeat, at least for the moment, Senate Democrats said Tuesday they won't allow any earmarks in spending bills this year.
With much of the rest of Washington arrayed against them, senators were bowing to the reality that they weren't going to secure any earmarks anyway. But the Senate's move is still a stark victory for earmark opponents who, in all likelihood, are a minority in Congress.
"The handwriting is clearly on the wall," said Appropriations Committee Chairman Daniel K. Inouye, Hawaii Democrat, in announcing his committee will stop accepting pork-barrel spending requests.
He vowed to revisit the moratorium next year, saying by then his colleagues will have seen the dangers of turning over almost all project-level spending decisions to the executive branch.
Earmarks — the pork-barrel spending projects lawmakers add to bills to direct money to their home states or districts — peaked in 2006 under Republicans, but have remained alive and well even after Democrats introduced reforms to make them more transparent.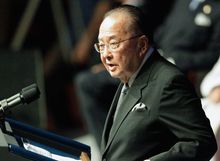 They account for less than half a percent of federal spending, but still have become a symbol of Washington's excess. Citizens Against Government Waste documented 9,129 earmarks, worth $16.5 billion, in fiscal year 2010.
Last year, House Republicans became the first party caucus to swear off earmarks, imposing a one-year moratorium on members for 2011 spending, though several House Republicans flouted the ban and submitted requests anyway.
Then, after winning control of the House in November, Republicans announced a renewed ban, and in the State of the Union speech last week President Obama jumped on board, announcing he would veto bills that included earmarks.
Senate Democrats were left with no option but to agree.
"Given the reality before us, it makes no sense to accept earmark requests that have no chance of being enacted into law," Mr. Inouye said.
Anti-earmark forces outside Congress said the pause gives Congress a chance to devise a better system for spending money, while inside the Capitol earmark foes said it will give lawmakers a chance to take a whack at bigger spending challenges.
"Our long-term budget challenges are so great that we cannot afford to spend time, much less taxpayer dollars, securing earmarks," said Sen. Tom Coburn, Oklahoma Republican. "I hope the rest of the Senate works with, rather than against, Chairman Inouye, President Obama and House and Senate Republicans as we turn our attention away from earmarking and toward the enormous economic challenges facing our country."