D.C. officials say no records exist documenting inspections, escapes or unusual incidents at a Northwest Washington group home for troubled youth run by a politically connected nonprofit that has seen at least one teenager in its care accused of homicide and another brutally slain in the last year.
Seventeen-year-old Scott Staten, in the custody of the Department of Youth Rehabilitation Services (DYRS), had already run away at least once and was living at Dupree House on Colorado Avenue NW when he was found fatally shot in an alley in Southwest Washington about two blocks from Nationals Park.
Dupree House was the same group home from which police say 16-year-old DYRS ward Dominick Payne had similarly escaped and been returned before he climbed out a window in February and made his way across town to the Langston Terrace housing projects in Northeast and beat a man to death with his bare hands.
Yet current and former DYRS officials, who license the group home for up to 10 residents at a time, say none of the documents, reports or records the department typically requires exist for the last several years.
"My understanding is the documentation is supposed to be there for Dupree House, but it is not," former interim DYRS Director Robert Hildum told The Washington Times in November, before he resigned.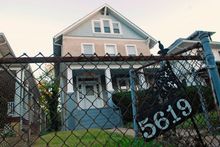 Dupree House, located in the Petworth neighborhood, is operated by the nonprofit group Associates for Renewal in Education Inc. (A.R.E.), whose president and executive director is Thomas W. Gore, longtime friend, campaign treasurer and constituent services fund treasurer for Mayor Vincent C. Gray. Neither Mr. Gray, nor Mr. Gore, or A.R.E. officials returned messages seeking comment for this report.
But the lack of paperwork is not the only unusual thing about Dupree House.
According to DYRS officials, the group home has played a unique — and some might say questionable — role in the housing of high-risk youthful offenders for whom there was no bed space at the New Beginnings Youth Development Center in Laurel, Md., the 18-month-old, $46 million state-of-the-art facility that accommodates just 60 of the District's more than 1,000 committed youths.
Mr. Hildum emphasized that the group home has had a good reputation in the community for more than 25 years.
"But it appears that the previous administration was using the house to control the population at New Beginnings," he said.
Mr. Hildum's comments came after The Washington Times requested information from DYRS through the Freedom of Information Act about facilities inspections at Dupree House. The request was prompted by a scathing police report in the Payne case that detailed how the juvenile was able to climb out a ground-floor bedroom window and leave the premises unnoticed.
At first, the agency claimed such information was confidential because it pertained to youth in custody. When The Times reiterated that the request was for documentation of physical inspections and not confidential youth information, DYRS officials engaged in a search for records to demonstrate oversight of Dupree House.
Mr. Hildum said he asked top staff to brief him on the oversight and record-keeping policies for facilities licensed by DYRS. He said DYRS has a monitoring unit that is responsible for oversight of the residential facilities it licenses. That unit maintains careful records of inspections, deficiencies and plans to correct deficiencies, he said.
According to Mr. Hildum, Dupree House and one other group home were specifically excluded from oversight by that monitoring unit, and instead fell under the direct purview of David Muhammad, former DYRS chief of committed services under then-Director Vincent N. Schiraldi.
Mr. Schiraldi did not return numerous requests for comment on his tenure with DYRS, but he is well-known for his philosophy on rehabilitation, including his dislike of group homes that house more than a half-dozen youths at a time.