The U.S. women's soccer team has been on a fairy-tale run through the World Cup, outlasting Brazil with penalty kicks in the quarterfinals before knocking off France 3-1 on Wednesday. Now, it's time to write the ending as the Americans face Japan in Sunday's final.
"This is the goal that we've all set, and collectively speaking we have unfinished business," forward Abby Wambach said Thursday on a conference call. "Like Hope [Solo] said the other day, we want to have a storybook ending to this amazing journey."
Alongside Wambach and Solo, Dumfries, Va., native Ali Krieger has been one of the most important characters in the U.S. World Cup story. Her penalty kick conversion against Brazil has been one of the iconic moments of the tournament, and she is one of only four Americans to have played every minute in the World Cup so far.
"I thought it was possible for us to be in the final, but actually winning it and really enjoying it with the team is a different story," she said. "This is unreal."
Sunday's final will be particularly special for Krieger, who played professionally in Frankfurt for 3 1/2 years. The savvy right back joined FFC Frankfurt after graduating from Penn State in 2007 and helped the club win the European championship the following season. Now she refers to the city as her second home.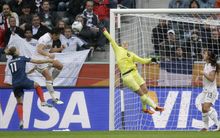 "It's definitely a dream come true for me," Krieger said. "It's been an unreal experience so far and just to end in Frankfurt and hopefully win the gold medal will be an amazing dream."
Wambach is not ready to call it a dream just yet. After netting game-winning headers in each of the U.S.'s past two games, she hopes to have similar luck in her first career World Cup final on Sunday. Despite her excitement, Wambach said that reaching the final is only half of the dream.
"Getting to the final is one thing, and winning is another," she said. This isn't good enough for me. … We want to make sure that we're on that top podium come Sunday."
In order to do so, the United States has to get by a streaking Japanese squad that upended Sweden 3-1 in the semifinals. The two sides are very familiar with one another after playing in the Algarve Cup in March and a pair of friendlies in mid-May. While the U.S. won all three meetings, coach Pia Sundhage said Japan looks like a different team now.
"They are much better, and by saying that I mean that they are more sophisticated going into the attacking third," she said. "They are still very good on the ball between the boxes, but now they look a little bit more dangerous."
"They're playing for something bigger and better than the game," said Solo, the U.S. goalkeeper, "and when you're playing with so much emotion, so much heart, that's hard to play against."
One major advantage for the United States is its height. Only four players on the Japanese roster are 5-foot-5 or taller, while their shortest players — forwards Mana Iwabuchi and Shinobu Ohno — barely tip 5 feet. The Japanese face a tall order with the 5-11 Wambach, who has scored 48 career goals with her head, but they make up for their lack of size with speed and control.
"They're not sending in a ton of air balls, and that kind of stuff," defender Rachel Buehler said. "They're playing to their strength, which is their passing game and their skill on the ball."
One quality that the United States and Japan share is their heart. Neither squad has taken an easy path to the final, and Wambach knows that resiliency will continue to play an important role Sunday.
"The road that we've taken hasn't been the road that many people thought we would take," she said. "But we're here, we're in the final, and we have a very good chance of being world champions."