Two silver luxury automobiles rolled into Orlando, Fla., in January 2006. Behind the wheel of the PorscheGemballa GTR 600 Biturbo was Jose Negron Rivera, called "Nino Brown." Driving the Lamborghini Murcielago was Angel Ayala-Vazquez. Better known as "Angelo Millones" and "El Buster," he led Puerto Rico's most powerful drug trafficking organization.
Ayala-Vazquez had just purchased the cars, valued at more than $400,000, from Washington Nationals pitcher Livan Hernandez in Miami. Yet the cars, according to the U.S. attorney's office in Puerto Rico, remained in Mr. Hernandez's name. The convoy was headed to the Walt Disney World Resort.
The transaction was explained among hundreds of pages of court transcripts and other documents obtained by The Washington Times. They illuminate Mr. Hernandez's link to Ayala-Vazquez and his associates that first surfaced in testimony March 30.
Now the target of a federal money-laundering investigation, Mr. Hernandez is suspected of being a "straw buyer" for Ayala-Vazquez, according to a high-ranking law enforcement source. A straw buyer purchases items for others in their own name, allowing the proceeds from illegal activities such as drug trafficking to be hidden.
The 63-page indictment said the conspiracy by Ayala-Vazquez and his co-defendants used the "straw buyers" to purchase real estate, cars and businesses to make their drug profits appear legitimate.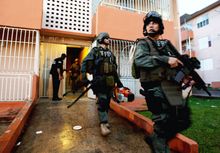 During an impromptu news conference in San Juan, Puerto Rico, after Ayala-Vazquez's conviction April 26, U.S. attorney Rosa Emilia Rodriguez-Velez was asked whether she expected charges to be filed against Mr. Hernandez.
"We'll see with time, but the investigation continues. The answer is yes, correct," Ms. Rodriguez-Velez said, according to El Nuevo Dia, a San Juan newspaper.
Federal investigations have three levels of people of interest: focus, subject and target. A target is the most advanced level. This means Mr. Hernandez has been advised he is under federal investigation, either in person or via a "target letter."
Officials from Major League Baseball's Department of Investigations met with the U.S. attorney's office in San Juan to discuss the case May 18.
The two cars and a warehouse in Bayamon, Puerto Rico, described by federal prosecutors as a "clubhouse" for Ayala-Vazquez's organization, are at the center of the investigation. All were in Mr. Hernandez's name, according to the U.S. attorney's office, but Ayala-Vazquez actually owned them.
That is the only property connecting Mr. Hernandez and Ayala-Vazquez, according to a second law enforcement source.
Witness implicates Hernandez
The link surfaced during testimony from Miguel Antonio Montes Nieves on March 30 during Ayala-Vazquez's trial in San Juan. Known as "Tony Montana" after Al Pacino's character in "Scarface," Montes pleaded guilty to mailing cocaine from Florida to Puerto Rico in an unrelated case. A childhood friend of Ayala-Vazquez's in Bayamon's Barbosa Public Housing Project, Montes landed in Orlando as part of a long career using and dealing drugs. Once, Montes testified, he met one of Ayala-Vazquez's deputies, eager to score marijuana, at Chuck E. Cheese's on International Drive in Orlando.
After Christmas 2005, Ayala-Vazquez and several of his lieutenants traveled to Florida. A concert at the House of Blues in Downtown Disney organized by Big League Entertainment, a promotion company run by Elias Maldonado, was on the agenda. But obtaining the two cars from Mr. Hernandez in Miami was the primary purpose.
Under questioning by assistant U.S. attorney Olga B. Castellon-Miranda, Montes detailed the deal for the Lamborghini: