Hard times and high prices are no match for little girls and their love of dolls.
A new 23,000-square-foot store American Girl store opens at 9 a.m. Saturday at Tysons Corner Center, and thousands of girls and parents are expected to line up outside the doors in anticipation several hours before. The argument by the American Girl company and the toy industry that an upper-upscale toy store can thrive in a time of high unemployment and economic uncertainty is about to get a real-world test.
"The toy industry has proven to be relatively 'recession-proof', " said Carter Keithley, president of the Toy Industry Association, a group that researches and analyzes trends in toy sales. "Data has shown that the toy industry has consistently demonstrated its stability over the past few years with steady to increased annual sales figures, even when other consumer products have shown significant decline. Toy industry sales ended 2010 with a 2 percent uptick … . We are expecting this growth to continue through 2011 and beyond."
The new store, which has set up shop on two floors next to Bloomingdale's, is an 8-year-old girl's heaven on earth, but parents are likely to feel the sting of the prices. One doll costs about $95.
Dining in the kid-friendly 110-seat bistro is $15.50 per person, and a trip to the Doll hair salon will add anywhere from $10 to $20 per doll. As for shopping, American Girl prides itself on providing ritzy, quality dolls and doll clothing. One doll with the first book from their series costs $100, and accessories range from $8 pairs of shoes to an $80 bike. A "baking set" is $44 under the product line of "Kit Kittredge," who lived during the Great Depression.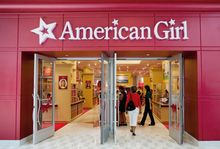 American Girl will not say how much was spent on developing the new store, but some may think it's a risky move in times of recession.
Wade Opland, vice president of retail at American Girl, said the company is doing just fine in these tough economic times. "Why American Girl fares so well is because of the value equation as a parent. We're still a brand that moms trust and girls love," he said.
Mr. Opland said the dolls and accessories are worth the hefty price tag.
"Our dolls, our books, are keepsake items. It's 'What do I want under the tree this year, what is the girl saving her money for,' " he said. "The doll becomes her best friend. Our dolls are very high quality and well worth the price. The high-quality product has a lot more play value and a lot more longevity."
For those who did not grow up with a World War II Molly doll, each American Girl doll has a particular time period in which they live. From "Kaya," a Nez Perce American Indian in 1764, to "Julie Albright," a San Francisco flower child-esque girl, each character promotes spunk and sweetness. Every doll has a six-book series, too. Each book has a moral and a short history lesson.There are 10 historical-era dolls, plus many more that can be customized by each customer. Also, each year the company spotlights a modern day "girl of the year." This year, "Kanani Akina" of Hawaii took that title.
"The stories are of the trials, tribulations and celebrations of a 9-year-old girl … you learn all the different aspects of a girl growing up. They have a lot of educational content, and they build strong character because girls can learn about other girls," Mr. Opland said.
The company, founded in 1986 by schoolteacher Pleasant Rowland, has sold nearly 20 million dolls and 135 million books. Mr. Opland said it takes three years to develop a new doll and her stories. Mrs. Rowland founded the company because of her passion for history, and she saw the importance of educating children through play.
Sisters Kelly and Karissa Keehan, of Fairfax, said they love playing with American Girl dolls because the time periods that each doll represents are interesting.
"I have Felicity and Elizabeth … I just like the time period when they lived in the C olonial time. I learned about it in school," said Kelly, 10, adding that she also enjoys reading Felicity's books and likes to change her outfits. "Felicity Merriman" and "Elizabeth Cole" are American Revolution-era dolls.
Karissa, 8, said she likes Kit and "Chrissa Maxwell" (the 2009 "Girl of the Year").