The Utah Legislature on Thursday passed a bill allowing gold and silver coins to be used as legal tender in the state — and for the value of their precious metal, not just the face value of the coins.
State backers said they hope the move will help insulate Utah from a potential monetary slide as countries question the value of the dollar. Others, casting their eye nationwide, said it could spur a broader move by Congress or states to readopt a gold standard.
"Utah, if the governor signs this particularly, they're going to change the national debate on monetary policy and get us back to basics," said Jeffrey Bell, policy director for Washington-based American Principles in Action. Mr. Bell has been in Utah to help shepherd the legislation through.
Utah's bill allows stores to accept gold and silver coins as legal tender. It also exempts gold and silver transactions from the state's capital gains tax, though that does not shield exchanges from federal taxes.
The legislation directs a state committee to look at whether Utah should recognize an official alternate form of legal tender which could become a path for creating a formal state gold standard.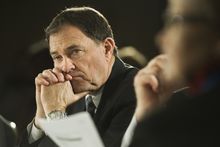 A spokeswoman for Gov. Gary R. Herbert, a Republican, said he has not yet taken a public stance on the bill.
State Rep. Brad J. Galvez, the chief sponsor of the measure, said he views it as a preliminary step on the path toward securing Utah's business climate.
"If the dollar continues to fall, what this will do will help stabilize the value of the dollar in Utah, so it helps stabilize the economy," Mr. Galvez, a Republican, said.
While similar legislation has been proposed in nearly a dozen states, Mr. Galvez said that if Mr. Herbert signs his bill, Utah will be just the second state to official recognize the coins as legal tender. Colorado has recognized gold and silver for decades, he said.
Opponents questioned why a state would need to come up with an alternative money system. According to the Deseret News, one lawmaker joked that the state should establish salt as legal tender, since Utah has so much of it.
Other opponents said the state capital gains tax break could distort investing decisions and push people to choose gold and silver over other investments.
Utah's move on gold comes at a time when states across the country are seeking ways to push back against the federal government on everything from environmental regulations to health care.
But the instability of the U.S. dollar also has sent some states scrambling to try to come up with alternatives or to pass measures designed to spur federal action.
In Virginia, Delegate Robert G. Marshall, a Republican, successfully pushed through a bill — not yet signed by the governor — that authorizes the state to mint gold, silver and platinum coins. He said that there is probably a good market for collectors who would prefer not to have to buy federally minted coins and said state-minted ones would create a backstop against inflation.
"I'm looking at Congress, and I'm looking at what the Chinese are doing, and I don't have a lot of confidence in what's going on there," Mr. Marshall said. "This is one way where Virginia can help our citizens as a security hedge against the inflationary action of Congress."