When the House voted last month to cancel a military jet engine project, it didn't just halt the spending, it said the program should get zero money this fiscal year. The only problem — it's five months into the fiscal year, and the Defense Department says the project already has spent $140 million.
Defense officials say if that cut becomes law, they'll have to reduce spending elsewhere to make up for the money that's already out the door.
The amendment's sponsor disagrees, and the defense contractor making the jet engine says the amount of money spent from 2011 funds is not that high. But either way, Republicans are finding that the logistics of cutting spending becomes trickier as the fiscal year winds down and more money gets spent.
Congress already is bumping up against a March 18 government shutdown deadline as the House votes Tuesday on a three-week deadline extension that would also cut $4.6 billion from 2010 spending levels and rescind an additional $1.4 billion in unspent funds from prior years.
The short-term measure would be the sixth extension since Congress missed last year's Oct. 1 deadline for finishing the dozen annual spending bills.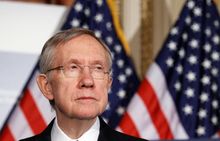 Weariness with the repeated short-term bills is growing in both parties, and Republicans in particular are facing a revolt among their conservative ranks.
"There is a growing group of resisters in the House saying, 'I'm not going to bite this every two weeks or three weeks, while we are giving up our leverage to cut funding,'" said Rep. Steve King, Iowa Republican.
Just a few weeks ago, conservatives said a week-to-week approach that made repeated cuts was a viable way to cut $60 billion from 2010 spending levels. But with ever-more spending still going out the door, they have soured on the approach.
On Monday, Rep. Jim Jordan of Ohio, the chairman of the Republican Study Committee in the House, announced he will vote against the short-term measure — a key signal of conservative unrest.
House Republican leaders said they hear the frustration, but blame the Senate.
"It is our hope this is the last short-term [bill] we do," said House Majority Leader Eric Cantor, Virginia Republican.
The House last month passed a bill to fund the government through Sept. 30, the end of fiscal year 2011, while cutting $61 billion from 2010 levels.
The Senate has yet to pass a full-year bill, though Congress has sliced off $4 billion in cuts and passed those as part of the most recent two-week deadline extension.
Senators have rejected both the House's $61 billion cuts plan and a competing Democratic plan, though, and Senate Majority Leader Harry Reid, Nevada Democrat, said that puts the onus back on the House to come up with another bill.
"We're still waiting for them to bring something — anything —- new to the table," Mr. Reid said. "They haven't done that yet. Listen to the Republicans' speeches and sound bites, and you'll hear no reasonable cuts, no serious offer, no willingness to compromise, no sense of shared responsibility."