The assassination of a second high-profile critic of Pakistan's blasphemy law Wednesday snuffed out any hope that the government will amend the decree that prescribes the death penalty for those insulting Islam.
Shahbaz Bhatti, minister for minorities affairs and the only Christian in the Cabinet, was gunned down in the back seat of his car while leaving his mother's home in a residential neighborhood in Islamabad on Wednesday.
The Pakistani Taliban claimed responsibility for the attack.
On Jan. 4, Salmaan Taseer, the governor of Pakistan's most-populous state of Punjab and another critic of the law, was gunned down by a bodyguard in Islamabad.
Mr. Bhatti, a Roman Catholic who faced numerous threats to his life for his stand against Pakistan's blasphemy law, was not accompanied by his own bodyguards, whom he rarely took on visits to his mother's home.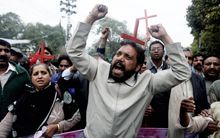 A witness who saw his bullet-riddled car described it to The Washington Times as an "ordinary black Toyota Corolla, without bulletproofing."
Mr. Bhatti's assassins left leaflets at the scene of the crime, proclaiming they killed him because he committed blasphemy.
"With high-level champions of reform being gunned down for their stance, there will be no chance of reform," said Nina Shea, commissioner on the U.S. Commission on International Religious Freedom (USCIRF) in Washington.
Ms. Shea warned that extremists are gaining the upper hand.
"They are winning the battle for the soul of Pakistan," she said.
President Obama and Secretary of State Hillary Rodham Clinton condemned Mr. Bhatti's assassination.
"He most courageously challenged the blasphemy laws of Pakistan under which individuals have been prosecuted for speaking their minds or practicing their own faith," Mr. Obama said.
"[He was] clear-eyed about the risks of speaking out, and, despite innumerable death threats, he insisted he had a duty to his fellow Pakistanis to defend equal rights and tolerance from those who preach division, hate and violence."
Mrs. Clinton, who recently met Mr. Bhatti, described him as "a patriot and a man of courage and conviction."
Pakistani President Asif Ali Zardari and Prime Minister Yusuf Raza Gilani also condemned the assassination.