A Western coalition Sunday kept up a barrage of airstrikes on Libya, while the head of the Arab League condemned the military action and called an emergency meeting to reconsider Arab support for the mission.
Residents of the Libyan capital, Tripoli, said huge explosions rocked the city late Saturday and early Sunday. In phone interviews with The Washington Times, they also reported hearing regular bursts of anti-aircraft artillery fire.
"There were explosions and flashes of blinding light near my home," said a resident, who only gave her first name, Rehna, citing a concern for her safety.
Tripoli residents said officials loyal to dictator Moammar Gadhafi were handing out weapons to supporters, and thousands of people had lined up to take the arms.
Before the coalition launched its air war, Col. Gadhafi sent a flurry of letters to Western leaders — including President Obama whom he called "my son" — imploring them not to attack his country.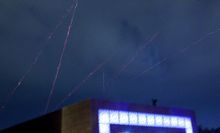 "I have said to you before that, even if Libya and the United States enter into war, God forbid, you will always remain my son, and I have all the love for you as a son …," he wrote to Mr. Obama.
Meanwhile, Amr Moussa, secretary general of the 22-nation Arab League, said Sunday he has asked for a report into the foreign strikes, claiming the attacks "led to the deaths and injuries of many Libyan civilians."
However, Libya's ambassador in Washington said Mr. Moussa speaks only for himself, not the league, which called for a no-fly zone and endorsed a U.N. Security Council resolution last week that authorized the attacks against Libya.
Ambassador Ali Aujali, who broke with Col. Gadhafi after the start of the uprising last month, accused the Libyan leader of manufacturing a civilian death toll by publicly displaying the bodies of rebels and opponents his own forces killed in the revolt.
Mr. Moussa complained that the airstrikes do not reflect the desire of the Arab League.
"What is happening in Libya differs from the aim of imposing a no-fly zone, and what we want is the protection of civilians and not the bombardment of more civilians," Mr. Moussa said.
Mr. Aujali, in an interview with The Times, said, "Libyans requested the international community to come and protect them. Mr. Moussa is just expressing his own view. He is not expressing the Arab Leagues view.
"The Arab League … approved the request … and thats it. We have to get rid of this regime," Mr. Aujali said.
Doubts were raised over the regimes claims of civilian casualties after Libyans watching state TV noticed bullet wounds in some of the victims bodies.
"How can they have bullet wounds, if the coalition is using airstrikes," one resident, who spoke on the condition of anonymity, asked incredulously.