NIXING 'NIXON'
They claim it's all part of the plan. But still. The Nixon Center, an institution founded by President Richard Nixon within his own presidential library just three months before he died in 1994, has dropped "Nixon" to become the more generic "Center for the National Interest." The transition was announced at a "glittering black tie gala" on Tuesday, attended by Republican Sens. Jon Kyl and John McCain of Arizona, plus former Defense Secretary James Schlesinger and Nixon's daughter Julie Nixon Eisenhower.
The original mission of the center was to establish foreign policy principles that "combine hard-headed pragmatism and fundamental American values," according to the center's original website; a new site is under development. The new entity will reflect "emphasis on nonpartisan analysis of America's foreign policy challenges based on U.S. national interests," the group says.
But, uh, dropping the name?
"This is a big step forward for the center. President Nixon always wanted the center eventually to be independent and we have now realized that vision," reasons Chairman Maurice R. Greenberg.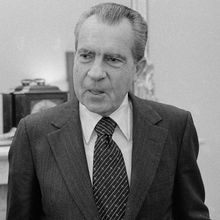 KING'S INNER METTLE
Rep. Peter T. King, New York Republican, faces cameras, opposing Democrats, protesters, faith groups, pundits and intense scrutiny as soon as the doors open Thursday morning to the House Committee on Homeland Security chairman's hearing on radical Muslims living within U.S. borders.
A National Review Online poll of close to 6,000 readers asks: "Pete King holds hearings on domestic radicalization in the Muslim community. This is: (a) overdue (b) pointless (c) an outrage. (The results: 93 percent say it's overdue, 6 percent deem the hearing pointless and 1 percent say it's an outrage.)
Witnesses include two Muslim-Americans who lost family members to Islamic fundamentalist group recruitment, along with Dr. Zuhdi Jasser, who has long voiced serious concerns for the radical Islamist tide within U.S. neighborhoods.
"There will of course be some dead weight among the witnesses: We doubt that Reps. Keith Ellison, Minnesota Democrat, and John Dingell, Michigan Democrat, will add much to the proceedings, besides defending their many peaceful Muslim constituents from an attack no one is contemplating," the National Review says in an editorial. "And we wish King had called the likes of Steve Emerson, director of the Investigative Project on Terrorism and an indispensable voice on Islamism in America."
JUST SO YOU KNOW
Julianne Moore has agreed to play Sarah Palin in HBO's adaptation of "Game Change," a book recounting Sen. John McCain's 2008 campaign. The film will be directed by Jay Roach, who also directed HBO's "Recount," the docu-drama treatment of "the controversial 2000 Florida recount," the network says.
NPR-R-R-R-R-R-R
Undercover videographer James O'Keefe says he has more damning footage about National Public Radio. Until then, the NPR sting saga is devolving into its denouement stage, soon to fade into distant voices and then static, perhaps.
"People at NPR yesterday were angry and dazed by this episode, which is just the latest in a series of events that put the company in the worst possible light. Doesn't anyone in NPR's top management think of the consequences before they act?" demands National Public Radio ombudsman Alicia Shepard.