No one provided more comedic material Saturday evening at the White House Correspondents' Association dinner than Donald Trump, who barely cracked a smile as President Obama and "Saturday Night Live" writer Seth Meyers cranked out the jokes for more than 2,500 guests.
"He can finally get back to focusing on the issues that matter, like, did we fake the moon landing," Mr. Obama said. Before the president released his birth certificate this week, Mr. Trump had made casting doubt on whether the president was born in the United States a central part of his message.
Held at the Washington Hilton, the glitzy event attracted a sometimes eclectic mix of Hollywood celebrities, government officials, political figures and, of course, journalists. Known as Washington's prom, every president since Calvin Coolidge has attended the dinner.
Mr. Obama gave plenty of jokes about the criticisms he quieted this week by releasing his long-awaited birth certificate. Telling the audience he would also release his "birth video," the screens played a clip from Disney's "The Lion King" in which the character Simba is born.
Mr. Meyers, the headliner, offered his own round of Trump jokes, which included making fun of the billionaire businessman's hair and his presidential aspirations. But he got some of the biggest laughs for making fun of C-SPAN.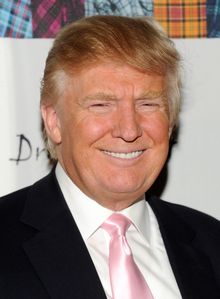 "C-SPAN is one unpaid electric bill away from a radio station," Mr. Meyers said. "Did you know bin Ladin has a show on there from 4 to 5 every day?"
If the evening didn't end well for Mr. Trump, it also didn't begin well when he was greeted outside the hotel with signs reading "Dump the Trump."
Before the dinner began, news organizations welcomed attendees with receptions. At a soiree hosted by Atlantic Media, National Journal and CBS News, Sean Penn staked out a corner table early in the evening. Actress Maria Bello and singer-songwriter Annie Clark were also spotted.
On the red carpet, rapper Cee Lo Green yielded to reporters chanting his name and lingered a bit longer in front of the cameras. So did "American Idol" judge Paula Abdul, who told The Washington Times that she was invited by CNN anchor Wolf Blitzer.
"I'm happy to be here; it's an honor," Miss Abdul said.
Bicyclist Lance Armstrong turned around briefly to allow onlookers to snap some shots before stepping onto an elevator that would take him to the dinner. One of those onlookers was Virginia Beach resident Kathleen Ferguson, who was visiting Washington and said she hadn't been aware the dinner was taking place in her hotel. Her biggest celebrity sightings of the evening: actresses Morgan Fairchild and Salma Hayek.
Shaka Smart said he's been busy since coaching the Virginia Commonwealth University men's basketball team into the final four in the NCAA tournament in March, but was glad to be at the dinner.
"I'm excited to be here and be just a fly on the wall, watching," Mr. Smart said.
While some have complained that the dinner has become too glamorized in recent years, conservative radio host Armstrong Williams said he's attended the dinner for more than 10 years and that it gets better every time.
"This is our Academy Awards in Washington, D.C.," Mr. Williams said. "It's harder to get a ticket to this than the presidential inauguration. That's a fact."