First of two parts
WASHINGTON, Pa. — Earlier this year, Phillip Whalen packed his bags, left his home in Louisiana and set up shop in western Pennsylvania.
The 15-year oil and gas industry veteran said work has dried up around the Gulf of Mexico, in part because of the fallout from the BP PLC oil spill last year. In what has become a kind of reverse national oil rush, Mr. Whalen said, his motivation for heading north to this small community 20 miles south of Pittsburgh was simple.
"I'm doing what I have to do to keep a roof over the head and pay the bills," the grizzled family man said early one morning. He was dressed in a blue jumpsuit and was smoking a last cigarette outside his hotel before heading off to work.
His company, T3 Energy Services, sent him to Washington, the economic epicenter for exploiting what many think is the nation's path away from dangerous dependence on foreign oil.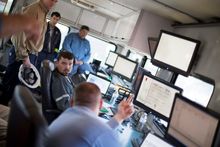 Big energy companies have set up shop here to tap the Marcellus Shale, a massive chunk of marine sedimentary rock stretching from the Finger Lakes region of New York as far south as Kentucky and Tennessee, holding within its subterranean grip vast deposits of natural gas.
Technology that essentially uses extreme water pressure to crack open the rock and liberate the natural gas within so that it can be pumped to waiting pipelines has given mining and energy companies access to the plentiful supply of shale oil and gas in recent years.
Proponents tout so-called "hydraulic fracturing" or "fracking" as the key to satisfying the nation's booming energy appetite — using reliable, domestic sources — for a century or more. Critics warn that the procedure is dangerous, an untested technology that opens the way for mysterious chemicals to seep into water supplies, while leaving unsuspecting residents of small towns and rural hamlets vulnerable to environmental and economic disruption.
Either way, the industry has and continues to transform small western Pennsylvania outposts such as Washington, Hickory and Canonsburg from sleepy communities to boomtowns and has changed the national conversation about how we heat our homes and power our vehicles.
"All the sudden you've found yourself with an abundant source of energy … and, by the way, it's made in America," Tom Ridge, former Pennsylvania governor and homeland security secretary, said in an interview. Mr. Ridge now serves as an adviser to the Marcellus Shale Coalition, a fraternity of natural gas drilling outfits.
The new Houston
Analysts estimate that the shale contains between 168 trillion and 516 trillion cubic feet of natural gas, buried as deep as 9,000 feet below ground. Pennsylvania, where the nation's first oil well was drilled in Titusville in 1859, has become the new Houston of the shale business and drilling has skyrocketed in recent years.
In 2007, drillers had 27 wells tapping the Marcellus Shale in the state. The number shot up to 161 in 2008 and to 785 in 2009. Last year, a record 1,445 wells were drilled — a 53-fold increase in four years. This year, 399 have been drilled as of March 31, according to the Pennsylvania Department of Environmental Protection.
The multibillion-dollar energy corporations drilling those wells have moved in as neighbors to residents in and around Washington, Bradford County and other parts of western and central Pennsylvania. Companies such as Fort Worth, Texas-based Range Resources, one of the largest players in the industry, are putting big checks in the pockets of landowners who lease their acreage for wells. The leases typically last as long as the well produces gas, often for 50 years. Many of the landowners are farmers, who get hefty royalty checks each month in exchange for allowing access to their land.
Mark Wolfe, who owns 22 acres in Mount Pleasant Township, said he was approached by Range Resources agents in 2008. He soon signed a lease with the company.