Urging Congress again to pass a portion of his jobs bill, President Obama claimed Wednesday that God is on his side.
Mr. Obama was standing at the D.C. side of the Key Bridge, calling attention to America's crumbling infrastructure and the need to put more construction workers back on the job. He criticized House Republicans for ignoring his legislation while approving a measure that reaffirms "In God We Trust" as the national motto.
"That's not putting people back to work," Mr. Obama said. "I trust in God, but God wants to see us help ourselves by putting people back to work."
He added, "There's work to be done, there are workers ready to do it."
House Republican leaders have pointed out that they have passed more than 15 pieces of legislation to create more jobs, but those bills are stalled in the Democrat-led Senate.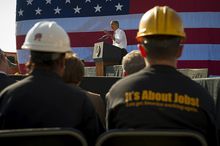 House Majority Leader Eric Cantor, Virginia Republican, criticized Senate Majority Leader Harry Reid, Nevada Democrat, for slowing down bills that have bipartisan support.
"When people around the country are looking for jobs and asking where the jobs are, they are stuck in the Senate, that's where the jobs are," Mr. Cantor said Tuesday.
A reporter asked presidential spokesman Jay Carney if invoking God in the jobs debate was "a bit much."
"I believe the phrase from the Bible is 'The Lord helps those who help themselves,' " Mr. Carney said.
Actually, that popular phrase does not appear in the Bible.
Mr. Carney said the president was referring to House Republicans for spending time "reaffirming a motto that I don't think anyone doubted."
"His point was simply that the House should get busy with matters of great importance to the American people," Mr. Carney said, referring to the large number of unemployed people whom he said need Washington's help.