WASHINGTON — Cyberattacks by Chinese and Russian intelligence services, as well corporate hackers in those countries, have swallowed up large amounts of high-tech American research and development data, and that stolen information has helped build their economies, U.S. intelligence agencies have concluded.
The report, offering the first such detailed public accusations from U.S. officials, said computer attacks by foreign governments are on the rise and represent a "persistent threat to U.S. economic security."
Assessing the implications, the report said "the governments of China and Russia will remain aggressive and capable collectors of sensitive U.S. economic information and technologies, particularly in cyberspace."
For years, experts and officials have complained about cyberattacks emanating from China. But this report, released Thursday, provides some of the sharpest and most direct criticism from the U.S. government about those intrusions.
A senior U.S. intelligence official, speaking on condition of anonymity to discuss the report before its public release, said the Chinese and Russians are using the high-tech espionage to boost their own development.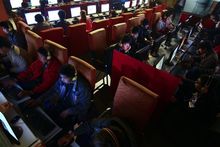 Despite the broad accusations, neither the report nor the U.S. officials offered many details about the Chinese or Russian cyberattacks. They also did not say how many of the attacks are government-sponsored. While they said attacks can be traced to the two countries, they noted that identifying the exact culprit is difficult.
China had no immediate response to the report, which was issued well after working hours Thursday in Beijing.
However, China has consistently denied engaging in cyberspying and, at a regularly scheduled news briefing Wednesday, Foreign Ministry spokesman Hong Lei reiterated Beijing's insistence that it, too, has been attacked.
"China is a major victim of hacking," Hong said. "China is ready to build, together with other countries, a peaceful, secure and open cyberspace order."
He added, "As for the remarks from certain quarters, I would point out that hacking attacks have no boundaries and are anonymous. Speculating on the origin of the attacks without investigation is neither professional or responsible."
The report did note several instances in the past year or so where cybersecurity experts have traced attacks to Internet protocol addresses in China but were unable to determine exactly who was behind them.
Among the examples were the breach of Google's networks in January 2010 and an instance where data was stolen from a Fortune 500 manufacturing company during business negotiations when the company was trying to buy a Chinese firm.
Officials said the National Science Foundation has put the value of public and private research and development at about $400 billion in 2009, and the U.S. International Trade Commission estimates that as much as $50 billion was lost due to espionage, cyberattacks and other counterfeit and trademark crimes. Officials said they could not determine how much of the total was lost due to cyberattacks.
The report is part of an increasing drumbeat by U.S. officials about the risks of cyberattacks in a growing high-tech society. People, businesses and governments are storing an increasing amount of valuable and sensitive information online or accessing data through mobile devices that may not be as secure as some computers.
The Obama administration has tried to raise the level of awareness about these threats so individuals and the corporate world will better protect their data.