Virginia Republican and Democratic luminaries crisscrossed the commonwealth over the weekend in last-ditch pushes to get their voters to the polls Tuesday for General Assembly elections that history shows likely will have a low turnout.
Democrat Tim Kaine, a former Virginia governor and now a U.S. Senate candidate, joined state party Chairman Brian Moran, former U.S. Rep. Tom Perriello and U.S. Sen. Jim Webb on Sunday in Ashburn, Va., to rally the party faithful outside the campaign headquarters of state Sen. Mark R. Herring, Loudoun Democrat, who is facing Republican challenger Patricia Phillips.
"The Democratic Senate is the balance in the state government right now," said Mr. Kaine, calling the Senate "the adults in the room."
Mr. Kaine and Mr. Webb also decried a recent email sent out by Loudoun County Republican Committee Communications Chairman Robert Jesionowski depicting a zombielike President Obama with a bullet hole in his head.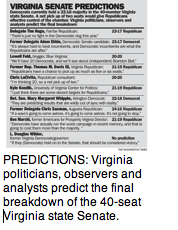 Mr Jesionowski has since resigned for what Mr. Webb called "one of the most disgusting things I've seen" in politics.
"If that doesn't make you [motivated] to try to go out and convince people that this party's in the wrong direction, I don't know what will," he said.
U.S. Sen. Mark R. Warner and U.S. Reps. Gerald E. Connolly and James P. Moran, and former Virginia gubernatorial candidate Terry McAuliffe were also scheduled to rally Democrats in the remaining days.
On the Republican side, Gov. Bob McDonnell, Lt. Gov. Bill Bolling and Attorney General Kenneth T. Cuccinelli II were among party leaders out campaigning.
The message? Turnout, turnout, turnout.
Mr. Cuccinelli, dressed in a leather jacket and jeans Saturday, pointed to his razor-thin, 2007 victory over Democrat Janet Oleszek as an example of how important each vote is.
"You know what they call you when you win by 101 votes?" he asked a crowd in Fredericksburg outside the campaign office of Republican candidate Bryce Reeves, who is challenging seven-term state Sen. R. Edward Houck.
"Senator," he said, receiving cheers in response.
Said Mr. Bolling: "Polls don't vote. People vote."
But with no candidate for president, governor on Congress at the top of the ticket, voter turnout is likely to be well below 50 percent — illustrating the importance of each party getting their respective bases to the polls.
In 2007, the last time all 140 state legislative seats were up for re-election, 30.2 percent of registered voters turned out to vote. In 2003, another off-off year, it was 30.8 percent.
"I don't think there's that much interest in those races at the grass-roots level," said former Virginia Gov. L. Douglas Wilder. "You see a lot of signs, but you don't see a lot of people saying, 'Boy, we got to get out here.' Part of the reason is because there is so much emphasis being placed on 2012."
Still, some local registrars have already reported an uptick in absentee-ballot applications compared with 2007.
In Fairfax County, 10,875 people voted absentee in 2007. And there have been more than 12,500 such applications this year, said General Registrar Cameron Quinn.
Betty E. Weimer, Prince William County's general registrar, said 1,700 people voted absentee in the county in 2007, compared with about 2,600 applications in 2011.
The deadline to apply to vote by absentee ballot by mail was Nov. 1, and the deadline for in-person absentee voting was Nov. 5.
Though some registrars reported slightly higher totals compared with 2007, with 500,000 more registered voters this year, that doesn't necessarily translate to higher participation, said Lawrence Haake, Chesterfield County general registrar.
"There are isolated spots where ... we consider hot races," he said. "But by and large, there doesn't seem to be a lot of interest."
© Copyright 2015 The Washington Times, LLC. Click here for reprint permission.